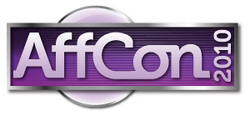 Fort Lauderdale, FL (PRWEB) September 1, 2010
AffCon 2010, the conference series dedicated to the growth and sustainability of the performance marketing arena, announces their upcoming show being held, December 8-10, 2010 in Miami, Florida. The AffCon Events series is organized by WebmasterRadio.FM, the world's largest online radio/podcast network for the B2B marketplace. AffCon Events delivers top-echelon education and networking for free to working affiliate marketers.
This unique conference kicks off on December 8th with several, paid workshops; for those looking for more hands on learning. In addition, those looking to take to the PGA greens at the Fairmont will be able to do so as they embark on the first annual Charity Golf Tournament. The day will end with a cocktail soiree to give everyone an opportunity to connect before the main events. December 9-10th affiliates will have access for free to more than 70 speakers representing all aspects of the online community during the educational sessions; great networking events will be continuous from 2pm onward after the exhibitions are closed for the day. Meet new contacts quickly and efficiently during "The Connect Express'" our premier speed networking event, or bond with colleagues as night falls and glow-in-the-dark golf takes place.
"The focus is on networking. The theme of the conference is Champion. The companies who sponsor the event are industry champions who are helping to create and further mentor fellow champions in the industry. "Unlike other conferences, we encourage companies to bring as many of their affiliates as they like to the event, for free. Inspiration, proper education and collaboration make for a successful industry…..Drop that into a fabulous resort venue , in the dead of the winter, and we can all toast to helping the industry grow in a positive way," States Daron Babin, Conference Organizer.
Affiliate Loyalty
Each year many conferences are held where advertising networks hunt for new affiliates to promote their offers. AffCon is taking the time to show the networks where new affiliates have been all along, right under their nose in fact, already in their database. Every day thousands of people sign up as affiliates for various programs. Many of these people are smart and savvy, but are not performing to the level that they could achieve if they had the training tools behind them. A company would train their sales team; it then follows that an affiliate program should train their affiliates. By sponsoring an AffCon Event, an affiliate program or vendor is creating brand loyalty and an affinity with those affiliate marketers that they invited to the conference by providing them the training that can shift performance into overdrive resulting in maximum profits for both the company and the affiliate.
This years' winter show is set at the luxurious resort of The Fairmont at Turnberry Isles in Aventura, Florida, which boasts some of the finest dining in south Florida, 2 award championship golf courses, two fabulous swimming pools and numerous areas to connect with fellow colleagues in the market space for networking and fun. Based on attendee feedback, past attendees agreed that the education delivered at the AffCon Events was unparallel to any other conference they had attended in the previous year; however, they wanted more connectivity with their colleagues and business partners, to include more emphasis on networking activities. AffCon Miami, is designed to encourage this interconnectivity while maintaining the high standards we have set for information, training and education.
For more information on registration, please visit http://www.affcon2010.com. For sponsor or exhibitor information, please call directly at (954) 736-4171.
About AffCon2010 - Miami
AffCon 2010 – Miami bases its conference and tradeshow series on the idea that actionable information, business building and networking opportunities should be freely available to everyone in the affiliate marketing industry, especially to working affiliate marketers. Featuring line-up of thought leaders in the affiliate and search engine marketing sectors, AffCon 2010 – Miami is a unique opportunity to meet and share ideas with the brightest business people in the affiliate marketing industry. AffCon2010 is the only event in the affiliate marketing industry which gives affiliate marketers free access to the movers and shakers in the sector.
About WebmasterRadio.FM
WebmasterRadio.FM lifts the "veiled curtain" of the Internet, bringing the business community together through an interactive radio network. Its listeners are a global group, comprised of everyone from corporate executives and decision makers to small and mid-sized businesses and individual entrepreneurs. WebmasterRadio.FM's stellar line-up of radio programming includes "CoverStory" with Jiyan Wei of PRWeb, WebmasterRadio.FM's official newswire; "Market Edge" with W2/Racepoint Group Chairman Larry Weber; "SEM Synergy" with Search Engine Marketing Industry Leader Bruce Clay, "The Joel Comm Show" with New York Times bestelling author and serial entrepreneur Joel Comm and more. To tune into WebmasterRadio.FM's live content or check out the show lineup, please visit http://www.WebmasterRadio.FM .
###