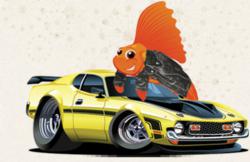 Foreclosure is a tough one, because it stays on there for seven years.
New York, NY (PRWEB) April 23, 2013
RoadFish.com men's lifestyle and finance magazine today released their observations regarding the influence that a foreclosure can have over one's credit, in the wake of an article released by Credit.com answering one unfortunate consumer's questions about why her outstanding mortgage payment was still showing up on her credit report. RoadFish.com highlighted some other financial hardships that can take years to recover from, but also urged persistence and patience as they stated that all negative financial blips can and will eventually be wiped from credit reports.
Deanne Templeton of Credit.com responded in a recent article to the question asked by a reader of why her second mortgage continues to appear on her credit report as an outstanding balance, and how can she remove its status. Templeton acknowledged that in the aftermath of such a difficult recession and housing market upheaval, many consumers' credit is being affected in a similar fashion. She sheds some light on this all-too-familiar scenario, stating that a loan will typically be reported as foreclosed on a credit report in the event that it happens, but warns that the outstanding balance might not be wiped out just because of its position on one's credit report. Templeton writes that foreclosures will likely disappear from credit after being present for seven years, which is the expiration timeline in most states.
RoadFish.com was pleased to see a straightforward answer given to somebody whose voice most likely represented many more people who are concerned over the same predicament. RoadFish.com delved into other such financial hardships that can take a toll on credit. RoadFish.com's Senior staff writer is quoted as saying, "Foreclosure is a tough one, because it stays on there for seven years. Bankruptcy is even worse, something that I recommend people avoid at all costs although obviously if it happens, there's nothing to do but pick yourself up and move on. The good news is bankruptcy will disappear from your credit report in ten years, so being more diligent and thoughtful with finances than ever in the meantime is incredibly important. It is entirely possible to replace the negative activity on your credit report with positive activity, it just takes discipline, budgeting, and smarts."
In the above-mentioned article, Templeton revealed the bad news about how second mortgages are affected when it comes to foreclosures. She states that a second mortgage is entirely separate from a first mortgage, and if a first mortgage gets foreclosed on it does not mean that the second mortgage will just automatically be included in the foreclosure of the first. This can result in the second mortgage—and the outstanding balance that comes with it—continuing to be reported on one's credit.
RoadFish.com recommends to consumers who have a nasty financial mar on their credit report to stay positive, keep checking their credit, and make choices that will benefit their credit when the bad stuff drops off. RoadFish.com's Senior staff writer is quoted as saying, "Unfortunate things happen—layoffs, demotions, sickness. There are a lot of reasons that people can fall under hard times. The important thing is to arrange one's finances in such a way as to reflect that you have turned over a new leaf; that you're reliable with money, that your financial hard times are over. Continue to check your free credit score each year to monitor your progress, and don't give up hope. The years might seem like they're crawling, but I promise the day will come when your bad mark will fall off."
About RoadFish.com:
RoadFish.com is a lifestyle and finance magazine published online, geared towards moderately successful gentlemen in their 30's and 40's who are keen on achieving more achievements out of life. RoadFish.com features articles on topics such as hot chicks, personal finance management software, luxury items, and reviews on restaurants and hotels. RoadFish.com's other finance articles revolve around credit history, budgeting, and agencies that help consumers heighten their credit scores. RoadFish.com is owned and operated by Purpose, Inc.