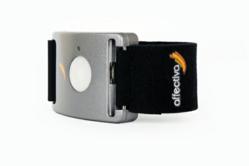 The Q Sensor 2.0 makes it easy to add a real-time emotion measurement dimension to your research and clinical practice.
Waltham, MA (PRWEB) December 01, 2011
MIT spin-off Affectiva, the leader in emotion measurement technologies, announced availability today of the Q™ Sensor 2.0, the next generation biosensor that measures physiological signs of people's emotional states such as excitement and stress.
Targeted for researchers and cutting-edge practitioners in psychology, health and user experience, the Q 2.0 now includes Bluetooth capability that enables emotion data to be displayed in real-time as it's collected.
The real-time display of unspoken emotional reactions allows researchers to make immediate adjustments to their protocols. A market researcher, for instance, can monitor focus group participants for strong yet silent reactions and encourage quiet participants to share their feedback. A therapist can use Q 2.0 to gauge the effectiveness of a patient's in-session treatment for an anxiety disorder. A researcher building an interactive simulation can incorporate the real-time data from the Q Sensor to modify the simulation based on the wearer's reaction.
In addition, the Bluetooth connectivity also enables developers to create tablet and smart phone applications that leverage the Q 2.0 emotion data. These applications automatically adapt to a person's excitement or engagement level based on the real-time feedback.
A Stanford University team is using the Q Sensor 2.0 to create games that offer new challenges to keep people engaged based on their arousal level. "We see this signal as a potential joystick into game play," said Byron Reeves, a professor in the communications department at Stanford University.
Extreme Makeover: Home Edition recently showcased a Q Sensor 2.0 that sent an alert to a veteran's smart phone when his stress signals exceeded a threshold. That way, the veteran was proactively alerted to make use of his custom-built quiet room.
The Q Sensor works by monitoring electrodermal activity (EDA), which is an electrical change in the skin that varies with activation of the sympathetic nervous system. The sensor also measures temperature and movement. Unlike traditional systems for research-grade EDA measurement, the Q Sensor is wireless and easy to set up, so it can be used in a variety of real life settings.
"We brought research-quality EDA data together with the mobile, wearable features researchers love and real-time Bluetooth technology that opens up a whole new field of applications," said Dave Berman, CEO of Affectiva. "The Q Sensor 2.0 makes it easy to add a real-time emotion measurement dimension to your research and clinical practice."
The Q Sensor 2.0, with software and warranty, lists for $2,000 with discounts available for bulk and educational use. To download software, view sample data or order sensors, visit http://www.affectiva.com/q-sensor/.
About Affectiva
Founded in 2009 by members of the MIT Media Lab, Affectiva is the leader in emotion measurement technologies to improve products and experiences. Affectiva's customers include Fortune 500 companies, agencies and leading universities. Its products include the Q™, a wearable biosensor, and Affdex facial expression recognition technology. Affectiva is privately held with backing from the National Science Foundation and funding from WPP, Myrian Capital and the Peder Sager Wallenberg Charitable Trust, represented by Lingfield AB. For more information, visit http://www.affectiva.com.
###