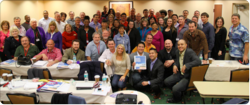 The Affiliate Marketing for Beginners live event is scheduled to take place on November 9th through November 11th 2012.
Orlando, Florida (PRWEB) September 20, 2012
Affiliate marketing for beginners training programs can be hard to find as few professionals are willing to share closely guarded secrets to earning profits online. The Internet Marketing for Beginners website provides a free resource to online users and is now launching its first ever live event in Jacksonville, Florida. The Affiliate Marketing for Beginners live event is scheduled to take place on November 9th through November 11th 2012. This event is the first of its kind in the Jacksonville, FL area and the instructors are giving away secrets that so-called gurus charge thousands of dollars to learn in a 3-day workshop. The live event registration page is available at this link http://internetmarketingforbeginners.com.
Making money online can be difficult for some and might appear to be easy for others. Successful marketers often recommend that anyone trying to learn Internet marketing to attend a professional seminar or other in-depth training program. The expense of some training programs can easily exceed $10,000 for a one-day workshop.
Small businesses with websites that have decreased in website traffic and revenue usually make the prime candidates to attend a respected Internet marketing seminar.
Google has updated its search algorithm several times in 2012. These new updates have been the direct cause of many websites being removed from the search results that are internally judged by Google as ineffective for web users. Some Internet bloggers and website owners have voiced displeasure in the way that Google is treating small businesses. Some believe that Google is becoming more focused on paid advertising instead of organic search results.
The Marketer's Black Book experts that are putting the Internet Marketing for Beginners live event together frequently explain to business owners during consulting sessions about the importance of learning Google's new rules.
"The rules seem to get stricter with each algorithm update," said Ryan Bush, social media expert and co-owner of MarketersBlackBook.com. "I've been successful in multiple industries online and even I have to re-learn the rules with each update," Bush added.
New data released about search marketing has revealed downward trends in website searches and upward trends in mobile technologies. The concept of mobile marketing might not yet be a household name, but some believe that mobile marketing is starting very much like the Internet did in 1997. There are 328 million cell phone users in the United States with a reported 70 percent of these users that depend on mobile Internet instead of a home or office PC for communication.
Small businesses that are struggling to find a fresh base of consumers online to market products or services to could reap the benefits of becoming an affiliate marketer. Affiliate marketing is one branch of Internet marketing that allows a business or website owner to promote products or services of other established businesses in exchange for commission when a sale or lead is generated.
Boosting profits as well as how to generate business leads are some of the topics scheduled to be covered in-depth at the Affiliate Marketing for Beginners live event November 9th through the 11th in Jacksonville, FL.
About Marketer's Black Book
The team of experts that operate Marketer's Black Book have created a new Internet resource to teach the basics and advanced topics of Internet marketing. The launch of the new Internet Marketing for Beginners website is a secondary and more focused website apart from the Marketer's Black Book website. Both business owners and website owners in any industry now have access to this informative website to learn how these marketing experts market products and services online.