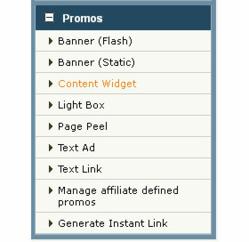 A spokesperson pointed out a side-by-side comparison on their site which really shows the difference and went on to say 'just look at how many merchants are switching to us
London, United Kingdom (PRWEB) July 29, 2011
While affiliate marketing remains one of the most productive and efficient channels for businesses today valuable affiliates are becoming more and more demanding and selective about who they are interested in working with. This pressure on merchants means that they must avail themselves of high quality affiliate software and the latest generation of tools in order to attract great affiliates and help them to be profitable.
It is no secret that 90% of all affiliate sales come from 5-10% of the big shot 'super-affiliates'. As a merchant you are not going to motivate them to promote your products or services with the promises of big commissions alone. They are looking for partners who are using the best affiliate software that incorporates the most up to date practices and provides them the ability to customize links the way that suits them best.
Even those potential affiliate partners who are coming up through the ranks with sizable traffic numbers and high quality sites know how to instantly differentiate the signs of a good affiliate program from complete rubbish. They know if a merchant is serious about their affiliate marketing and have a great product they will stand behind it and take the time to invest in technology and marketing tools that will help their front line marketers stand out empower them to not only drive in more traffic but to increase conversions and improve customer loyalty.
Building on the incredible success of their affiliate software solution and Next-G affiliate software tools, Euraffiliates has added an even more dynamic interface with affiliate widgets for its users to give them an even further advantage and keep their clients way out ahead of the pack.
Using these affiliate widgets a merchant can enable their affiliates to display their products or services directly on affiliate websites by simply copying & pasting the code. Affiliates can easily customize the look and feel so that they match their websites or blogs. Though best of all this new technology does not require affiliates to have to republish ads if there are any changes or additions to the products and services. Of course tech savvy affiliates could accomplish this by coding data feeds, though with the amount of custom programming this requires it is something that most avoid meaning those using Euraffiliates software can provide a seamless, low maintenance revenue stream.
There are actually two types of widget solutions to choose from. The built in Affiliate Content Widget allows businesses to define different content blocks, products lists, product descriptions, comparison charts, article lists, etc. All without any programming needed.
Custom Affiliate Widgets on the other hand are more robust and are the ideal choice for merchants who advertise thousands of products in multiple categories. Similar to Amazon's widget solutions, with some custom programming, affiliates can simply copy & paste with a few clicks in order to display their preferred products in the way they want on their sites.
Euraffiliates' software solutions are certainly something that will help merchants stand out as well as giving them plenty of opportunity to grab extra attention when promoting their affiliate programs and attract additional attention from the press.
The customized affiliate widget gives merchants the capabilities of an Amazon type feel for allowing affiliates to customize the looks of their ads and links as well as even going so far as to select dynamic content which offers seamless updating and tailored product offerings to match their websites, blogs and niche markets.
Enhanced visuals and fresh content are always great, but the ability to really hone in on and serve up exactly what a specific affiliate's traffic is looking for clearly also means more conversions and hence more commissions and a better ROI on all marketing, something no one can be passing up on in the tighter environment we are operating in today.
The addition of this custom affiliate widget may or may not instantly inspire all businesses to make the switch to a new affiliate software all by itself, though it certainly makes Euraffiliates a must to check out for anyone looking for an edge to take their affiliate program to the next level or those who are just launching new affiliate programs.
Asked about how Euraffiliates compares to other affiliate software brands available a spokesperson pointed out a side-by-side comparison on their site which really shows the difference and went on to say, "Just look at how many merchants are switching to us from other affiliate platform, I think that speaks for itself."
From a look at the company's site http://www.euraffiliates.com you will notice testimonials from many business owners and execs who have made the switch due to a variety of factors from extended statistics and promotional tools to the depth of thought that has gone into enabling marketers attract more affiliates and the extended support which includes free installation and shopping cart integration.
Certainly a company to watch and an affiliate software suite to consider for anyone serious about affiliate marketing.
For those interested in learning more about the software they can contact the company's Affiliate Solutions Specialist, Lutfal Hoque at http://www.euraffiliates.com/contact-us.php .
###