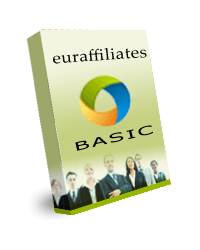 Euraffiliates Basic helps merchants to run a full-fledged affiliate program. It is free for the first year and then continues to be so until 25 affiliates is reached.
United Kingdom (PRWEB) December 31, 2011
Euraffiliates has relaunched its basic edition, Euraffiliates Basic to give All Web-store Owners a Chance to Setup a Next-G Affiliate Program Absolutely Free in the First Year. Here is how.
An affiliate program is a great way of marketing because costs are linked directly to the number of sales. Anyone (a merchant) can have an effective marketing campaign without having to spend upfront for unknown results.
How an affiliate program works is simple. Other website owners that have visitors that are likely to be interested in the merchant's products sign up to be affiliate partners. They promote the merchant's site and products and refer potential customers to the merchants. If a visitor from their site buys from the merchant, he rewards the affiliate partner with a commission. Anyone who owns sells online can benefit from using an affiliate program, regardless of what the merchant selling.
Standard affiliate software provides everything a merchant needs to setup and run his affiliate program. It deals with all aspects of the program from affiliate registration to reporting to payments, and even gives him an affiliate help-desk to offer support to the partners. It integrates seamlessly into the existing website.
Why Choose Euraffiliates Basic?
Euraffiliates Basic gives a merchant all the standard tools to run a full-fledged and secure affiliate program at almost no cost. The software has some advanced features that traditionally are included only with the Pro or Gold versions of competitors.
To evaluate the software Euraffiliates offers a fantastic 1 year free trial and more. It is free for the first year and then continues to be so until 25 affiliates. So by the time a merchant buy it (paying only $99 for the basic version, with no ongoing costs), the money that he has made through it will be enough to offset the cost of the software. If he doesn't reach that level, he doesn't have to pay anything.
The software is flexible, so a merchant can setup exactly the affiliate program that he want and that is most attractive to his affiliates and partners.
Euraffiliates comes in three flavours – Basic, Pro and In-house Network.
Merchants selling through different affiliate networks are also recommended to setup their own affiliate program using Euraffiliates. The only reason, the affiliates in a network is never theirs. They have limited control in an affiliate network.
What's included in the Free Trial
(1) A license to use the software for free until the later of one year or until 25 affiliates is reached.
(2) All Standard affiliate software features
(3) Some Next-G affiliate tools: features that usually would only come with Pro or Gold versions of similar affiliate software such as differential commission tools (to reward different affiliates differently), an application firewall, live logs, performance reports and an affiliate help desk.
(4) Free help to install, integrate and setup the system
(5) Optional free installation on request
(6) Free upgrades for one year
More information is available at http://www.euraffiliates.com/euraffiliates-basic.php.
Here is some more information about the software.
(1) After one year trial, if someone buys, he will never need to reinstall the software. Just replacing the license file will help. The existing data will stay intact.
(2) The software installation process is also simple. The easiest way to set up the program is simply to make a request. If anyone prefers to do it himself, all he needs to upload the zip file, the setup files and run the setup wizard. It does not entail editing even a single PHP file.
(3) It can be upgraded later, easily, and without risk of data loss.
(4) The software vendor really does believe that if a merchant give it a go, especially after having tried our competitors' software, he'll love it.
There is a comparison chart with other affiliate software programs at: http://www.euraffiliates.com/affiliate-software-comparison.php.
A comparison chart of features between different Euraffiliates versions can be found at: http://www.euraffiliates.com/features.php.
The best way to evaluate it is to try it. There is a demo version available too for those who do not want to setup in his own server before seeing it live.
There are lots more information on Euraffiliates at their website at http://www.euraffiliates.com/euraffiliates-basic.php that one can explore.
Alternatively, for those wanting to speak to someone about the software, Lutfal Hoque, Affiliate Software Specialist can be reached from the contact page at http://www.euraffiliates.com/contact-us.php.
###