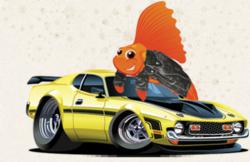 There's no doubt in my mind that this is going to be one incredible event. Plus, who doesn't like to watch a good exotic car race?
Las Vegas, NV (PRWEB) January 12, 2013
RoadFish.com men's lifestyle and finance magazine today announced the events that they are most looking forward to during the popular Las Vegas affiliate marketing convention, Affiliate Summit West, taking place this year from January 13th through 15th at Caesar's Palace.
According to its website, Affiliate Summit West (ASW) is an annual 3-day premier affiliate marketing conference that was founded in 2003 by Shawn Collins and Missy Ward with the intention of providing education sessions on the most up-and-coming industry issues and cultivating a productive and open networking opportunity for affiliate marketers. Attendees include affiliates, merchants, networks, vendors, and agencies.
RoadFish.com is especially excited for this year's conference. One event that RoadFish.com highlighted as being a top pick is the All Phase Hosting's Affiliate Exotic Car Race, taking place at the Las Vegas Motor Speedway on Sunday, January 13th from 3pm to 6pm. Participants can register to win a spot to race a Ferrari, Lamborghini, Porsche, McLaren, or Aston Martin. Veteran UFC fighter and Las Vegas local Martin "The Hitman" Kampmann with be in attendance at the event, as well as undefeated MMA fighter and 5-time world champion in Brazilian Jiu Jitsu, Robert Drysdale.
RoadFish.com's Senior staff writer is quoted saying, "I honestly consider Robert [Drysdale] to be the greatest fighter in the world. And Martin Kampmann is such an incredible athlete, I love watching his fights. There's no doubt in my mind that this is going to be one incredible event. Plus, who doesn't like to watch a good exotic car race?—especially when there's the opportunity to actually get to race one! That would be a once-in-a-lifetime opportunity."
RoadFish.com also promoted a highly selective and advanced invite-only talk entitled "What's Working at Google." The event, which is under strict NDA, takes place at the hosts', Purpose Inc. and All Phase Hosting's, penthouse suite at the Mirage on Sunday, January 13th from 6:30pm to 9:30pm. The discussion is exclusive to those affiliates who are doing advanced work to try and make their sites rank well in Google. RoadFish.com's third big pick for the long weekend is the All Phase Hosting/Purpose Inc. Poker Tournament on Monday night. The event will take place at the Mirage Poker Room with a $50 cash buy-in, with the opportunity for re-buys and add-ons, on Monday, January 14th from 7pm until there's only one player standing.
RoadFish.com's Senior staff writer is quoted as saying, "I have actually participated in this poker tourney in past Affiliate Summit conferences, and it is some of the most fun I've had during the three days I'm in Vegas for ASW. There is usually open bar and In 'N Out Burgers delivered, and everybody just gets together and has a good time. I've seen great friendships and even partnerships be formed in the poker room. Even if you don't win—worst case scenario is you're out $50 bucks, but you're stuffed with burgers and have just had a blast playing poker with some of the most originative, brightest and best affiliates at the conference. I've never seen the tables not packed, and I can't imagine this year being any different."
There are over 100 speakers slated for this year's ASW as well as three keynote speakers. The keynotes include Daniel "Rudy" Ruettiger, after whom the blockbuster hit about the underdog-turned-legend Notre Dame football player "Rudy" was based on, Baby Einstein Company Julie Clark, and Tim Ash, author of the bestselling book "Landing Page Optimization" and CEO of SiteTurners. Passes to ASW13 are presently sold out.
About RoadFish.com:
RoadFish.com is an online men's lifestyle and finance magazine that features articles about men's luxury items, top vacation sites, dating advice, and more. The online magazine is targeted towards men in their 30's and 40's who have already achieved moderate success in life, and are striving to accomplish their next ambition. RoadFish.com has also written about hot chicks, restaurant reviews, and financial advice such as how to improve one's credit score. RoadFish.com is owned and operated by Purpose, Inc.