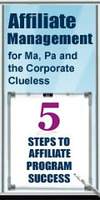 If you wanted a one-on-one consultation for your program, you could expect to spend at least $500," says Eric Nagel
Roswell, GA (PRWEB) March 23, 2011
Greg Hoffman, an award winning outsourced program manager (OPM), released a 40-page ebook on the essentials of affiliate program management, affectionately called Affiliate Management for Ma, Pa and the Corporate Clueless.
Tips and tricks on affiliate management exist in hundreds of places on the internet but Hoffman saw an immediate need for merchants to learn from a quick start guide. The affiliate management ebook is meant to help educate prospective new merchants or those that may have recently launched a program on a major network such as ShareASale or Commission Junction.
"When a company finds out about affiliate marketing and is ready to start driving more traffic to their shiny new product, most of them launch without a strategic plan or a manager with enough knowledge about the industry to make an impact," Hoffman said. "I wrote this so the merchants could have as much information ahead of time as possible."
One of those facts is that affiliate marketing is a way to supplement sales, not start them, he adds. The best example used in the ebook is that a successful affiliate launch typically yields 10% to 20% new customers within 6 months of launch. Hoffman understands that there are many exceptions to this rule but he wants the readers to understand that unrealistic expectations can kill a program very fast. Merchants need to have a long-term strategy in place and be open minded to suggestions about how the program is managed, including opinions from the affiliates in the program, he said.
The ebook has more than a dozen sections including the basics of affiliate marketing, the five steps for success, worksheets, checklists and end of the month report templates.
"If you wanted a one-on-one consultation for your program, you could expect to spend at least $500," says Eric Nagel, a full-time affiliate and consultant. "Yet because this e-book isn't specific to your program, and you don't have an OPM holding your hand, you can get the same information for just $97. You'll just have to fill out the worksheets yourself, to get the same value."
The guide covers 5 Steps to form a strategic plan for an affiliate program before, during and after its launch. Here are the steps:

How to prepare the product and the site for affiliate traffic
How to competitively structure the program
What technical tools are needed for the program
What are the fundamentals of program management
Keeping the program relevant and successful
Click this link to purchase Affiliate Management for Ma, Pa and the Corporate Clueless.
Greg Hoffman Consulting is an outsourced program management agency with merchants in the top affiliate networks. The GHC team consists of two experienced affiliate managers and a recruiter. Visit http://www.greghoffmanconsulting.com to learn more about our style of affiliate management. We specialize in recruiting quality affiliates relevant to the merchant and we focus on individual communication with top affiliates all the time. For affiliate updates, visit the affiliate marketing blog, Marketing Gorilla.
###