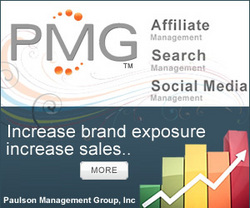 "PMG® CouponFeeder™ is a useful affiliate technology, which assists both merchants and affiliates. CouponFeeder™ acts as an informational bridge between merchants and affiliates. "
Boulder, Colorado (PRWEB) April 04, 2013
Affiliate marketing beats out other online marketing channel costs with a merchant having thousands of affiliate advertisers marketing their brand for them online. Affiliate marketers utilize search engines such as Google – Yahoo! - Bing, Twitter, Facebook, Mobile advertising, email marketing and online display advertising just to name a few to reach the consumer market on behalf of the merchant. Merchants only pay for advertising via a sales commission to the affiliate when the affiliate produces a valid sale through their marketing efforts, beating out pay per click and pay per impression models where a consumer sale might not be generated and the traffic might just be a robot or search engine bot. Affiliate marketing is the lowest cost advertising platform for merchants who are seeking to lower their costs in this economy while increasing online sales. Merchants only pay for advertising when there is a sale, making affiliate marketing the most successful and popular online marketing channel especially in this economy.
Consumers who are seeking the best possible deal as well as savings are no longer headed to the shopping malls or retail shops. (See: The Death of the American Shopping Mall - Author: Jeff Jordan Dec 26, 2012).
Consumers are finding online coupons, deals, and free shipping worth their online shopping time and effort. Affiliates in the top affiliate networks know how to market to reach cost consciences consumers. Merchants who have affiliate programs focusing on deals, offers, coupons are winning with increased online sales and advertising placement through their affiliate-marketing partners. Affiliate coupon sites and deal sites such as RetailMeNot.com and CouponMountain.com, and FatWallet.com as well as thousands of other affiliate sites are doing phenomenally well at reaching consumers who are hunting online for that special deal. Merchants who are not on these coupon sites or deal sites are losing those spots to competitors who understand aggressive marketing with offers to incentivize consumer sales is needed in this economy.
Merchants with affiliate programs with effective affiliate marketing strategies that place them ahead of the competition are the ones who are maintaining and increasing sales online. Looking into affiliate marketing and selecting an agency with affiliate marketing tools and strategies that focuses on positive sales growth is an important factor to remaining competitive.
Affiliate marketing tools like PMG® CouponFeeder™ place you ahead of the online competition.
The premier affiliate management services of Paulson Management Group, Inc. includes not only customized affiliate program strategies and affiliate network discounts for new affiliate program launches, but also the use of a full suite of affiliate management tools, including the PMG® CouponFeeder™ for affiliate partners. Each affiliate management tool solves a different issue frequently encountered by merchants who host affiliate programs.
Paulson Management Group, Inc. PMG® is proud to distinguish itself in the affiliate marketing community with the development of affiliate management technologies. In this economy merchants wishing to advertise online seek out the lowest cost advertising solutions and affiliate marketing where a merchant only pays for the advertising once a bona-fide sale is made, is the solution.
PMG® CouponFeeder™ is a useful affiliate technology, which assists both merchants and affiliates. CouponFeeder™ acts as an informational bridge between merchants and affiliates. When merchants have a new coupon or offer available for affiliates to promote in the merchant's affiliate program, the PMG® CouponFeeder™ ensures that all affiliates have access to that coupon. When a coupon is expired, it disappears from the CouponFeeder™. The CouponFeeder™ is available to affiliates as an RSS feed, and can be sorted by each affiliate program under PMG®'s managed care.
Paulson Management Group, Inc. affiliate management services can include launching a brand in multiple affiliate networks in the USA or internationally. For more information on PMG® affiliate management services, or PMG® affiliate management technologies, interested parties may visit http://www.paulsonmanagementgroup.com.
--------------------------------------------------------------------------------------------------
About PaulsonManagementGroup.com
Paulson Management Group, Inc. is a full service multi-channel, e-marketing management and consulting agency. Paulson Management Group, Inc. is able to provide affiliate program management, paid search engine management , social media management and Search engine management. Interested parties should call 800-384-7760 for more information on services offered by Paulson Management Group, Inc.