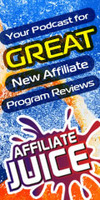 Hundreds of affiliate programs launch every month and not all of them start with the needs of the affiliates at the core and I think Affiliate Juice gives them the knowledge to find success sooner
Roswell, GA (PRWEB) September 27, 2010
The Affiliate Juice Podcast highlights new affiliate programs on major networks and offers friendly suggestions to help merchants maximize their offer to recruit affiliates that can make an immediate impact on sales. Affiliate program reviews and analysis could cost hundreds of dollars but the new podcast is offering this service for free, if the program is worthy.
The hosts of Affiliate Juice are Joe Magennis and Greg Hoffman, both entrenched deep into the heart of the affiliate marketing industry. Magennis is an affiliate with a background in branding and Hoffman is an outsourced program manager. Their combined experiences give them unique viewpoints on the best practices for new program strategies.
"Hundreds of affiliate programs launch every month and not all of them start with the needs of the affiliates at the core and I think Affiliate Juice gives them the knowledge to find success sooner," said Magennis, owner of Fluid Media Inc.
Merchants are encouraged to visit the Affiliate Juice guidelines and submission form to enter detailed information about the benefits and elements of their newly launched affiliate programs. The hosts will determine which programs are best suited for discussion and work ahead of time with that merchant to fill in any blanks regarding its future evolution as a program. An example of the required fields include:

Program name and description?
Commission and cookie length?
PPC policy?
Does the program convert without affiliate traffic?
Do you have a newsletter and does your manager interact with affiliates regularly?
"I think both new merchants and seasoned affiliates will enjoy the podcast because we will not only encourage the merchants to improve but the affiliates will catch a glimpse of a program that they should probably join immediately," said Hoffman, owner of Greg Hoffman Consulting. "We look forward to showcasing a wide variety of programs in various networks."
Bandwidth for the Affiliate Juice podcast is furnished by GeekCast.FM, an aggregation of podcasts for geeks. Episode 1 of Affiliate Juice, recorded on Sept. 23, 2010, and all other episodes can be found on Affiliate-Juice.com, GeekCast.FM and iTunes.
Joe Magennis has been involved in web based initiatives since 1998 as a founding partner of the Atlanta based marketing agency Fluid Media Inc. He is the host of the Cover the Bases podcast series for Baseballisms.com, where he speaks to authors of books on baseball, diving into their motivation for writing books about our national pastime. He co-hosts a social media podcast called The Bella Buzz and appears on the GeekCast.fm network as an original member of the Geek Dads Weekly podcast.
Greg Hoffman (@akagorilla) is an outsourced program manager with multiple clients in ShareASale and Commission Junction. He is creator and co-host of the Affiliate Juice Podcast, which analyzes new program launches and guides merchants on how to build a better program for affiliates. Greg is also the author of the Marketing Gorilla blog, started in 2005. His first major affiliate management position was for the Thompson Cigar family of companies including Linensource, Casual Living and Cafe Belmondo. Greg started his professional career as a reporter for newspapers including the Tampa Tribune and the Atlanta Journal-Constitution.
# # #