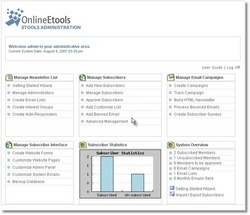 With the introduction of the latest version of Omnistar Affiliate we have added a number of powerful features
Columbia, MD (PRWEB) February 19, 2009
Omnistar Interactive, maker of top tier web based software solutions for businesses looking to automate their functions and manage customer interaction through software solutions, is proud to introduce the latest version of the Omnistar Affiliate, version 5.4. The new affiliate software includes affiliate groups, new promotion methods, and additional email templates.
"With the introduction of the latest version of Omnistar Affiliate we have added a number of powerful features," said Tariehk Geter, CEO of Omnistar Interactive. "Omnistar Affiliate's new affiliate group function allows you to offer different affiliates different commission rates, ensuring you have the flexibility to use the software however it will most benefit your site."
The new affiliate tracking software offers new advertising methods include page peels and light boxes, allowing you to offer your advertisers as many different ways to advertise as possible. These new features are simple to use and very attractive when implemented. As well, the system provides you with an additional 20 templates for the email management system, ensuring your email marketing is attractive and effective.
"These new features make Omnistar Affiliate one of the best affiliate software solutions on the market," remarks Arlen Robinson, COO of Omnistar Interactive. "Our software can take your advertising to the next level, and with the low entry price and great features all packed into a sleek interface, Omnistar Affiliate is a great buy for any webmaster."
For more information on Omnistar Affiliate just visit http://www.osiaffiliate.com.
About Omnistar Interactive, LLC.:
Omnistar Interactive, LLC. is a web software solution provider that helps businesses and organizations connect with their customers and automate various business functions. Launched in 1998, Omnistar has helped thousands of customers worldwide to achieve success. To learn more about Omnistar Interactive, visit omnistaretools.com
Please direct all press inquires to:
Arlen Robinson
Chief Operating Officer
Omnistar Interactive, LLC.
###