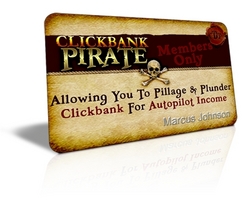 spend money to make money
(PRWEB) August 4, 2009
Internet marketing entrepreneurs Soren Jordansen and Cindy Battye announce the August 4 launch of their new Web site, Clickbank Pirate. Clickbank Pirate is the first true turnkey system for generating affiliate income with Clickbank products, allowing users to generate unlimited Clickbank commissions on complete auto-pilot.
"Clickbank Pirate is a proven system that gives marketers access to everything necessary for Clickbank success without having to deal with any technical issues, writing or selling," Battye says. "With Clickbank Pirate, users will achieve the success that many sites and programs promise, but fail to deliver."
Jordansen and Battye run several successful membership Web sites focused on Internet marketing, ranging from graphics generators to niche suggestion tools. Clickbank Pirate is the first of many projects the duo is creating together.
Clickbank is the world's largest affiliate network for digital products like software and e-books, with hundreds of thousands of affiliates, vendors and products in all kinds of niches. Clickbank is popular among affiliate marketers because of its ease and reliable commissions. Due to this, it is quickly becoming the leading affiliate network. However, there are drawbacks. While some products and systems are good, many suffer from the same problem -- if they aren't outright lying, they at least aren't telling the full truth.
Battye and Jordansen say that despite the promises made by many networks, when it comes to Clickbank success there are no loopholes to being profitable -- there is no magic pay per click campaign or guaranteed keyword list, and money cannot be made without effort.
"What these so-called gurus are talking about is simply how to generate traffic to your affiliate links. Traffic is very important, but it should be the last thing on your mind. You need to have a proven system set up before even contemplating sending traffic to it, let alone experimenting with costly Adwords campaigns," Battye says. "Sending traffic to an affiliate link might generate some sales, in fact it might even be very profitable, but the people hitting the affiliate link are likely not specifically looking to buy that product. The trick is to always go for the subscriber first, not the sale."
In order to succeed, there are several components a person needs to have in their Clickbank marketing system: a squeeze page, thank you page, download page, report and follow up series. In addition, a domain name, web hosting account and a good autoresponder service to deliver an e-mail series are essential for success.
Creating a Clickbank system, then, doesn't require a huge investment, but the old phrase "spend money to make money" is still true. The biggest obstacle for most people is often the technical side of things, getting the pages done, setting up the autoresponder and writing reports and the crucial follow up series.
With Clickbank Pirate, users receive all these pages and services necessary for success. Users receive professionally designed video squeeze pages for maximum conversion rates; a full system setup with thank you and download pages, complete with ads inserted; cutting edge reports that will presell prospects on the offers available; and a persuasive e-mail follow up series selling the products using affiliate links. As a fully turnkey service, Clickbank Pirate also provides web site hosting, requiring no set up or payment to keep your service operational; written and delivered reports custom-branded with affiliate links; and list hosting and delivery of the follow up series, eliminating the need for an autoresponder.
Perhaps the best benefit of Clickbank Pirate is that any prospect brought in will be tagged for life. Clickbank Pirate will keep selling prospects Clickbank products, meaning that just one free lead can mean massive recurring commissions.
"With so many crucial services inherent in its system, Clickbank Pirate provides a solid foundation for future Clickbank success," Battye says.
For more information about Clickbank Pirate or to start generating a reliable steady income, visit http://cbpirate.com/.
###