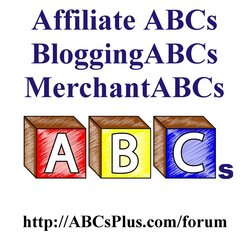 People need the basics of internet marketing explained. Our podcasts do that, and then people can discuss in more depth on the forum.
Far Rockaway, NY (PRWEB) September 27, 2010
Announcing the launch of ABCs Plus affiliate marketing forum, which was created to showcase the Affiliate ABCs and other ABCs podcasts, plus showcase affiliate programs that are "affiliate friendly." Created by Deborah Carney and Vinny O'Hare, affiliate marketers and managers that know what affiliates need and want. Carney and O'Hare knew that beginning affiliates needed direction, and that the 20 minute podcasts were the perfect length to teach the ABCs in chunks that are digestible. The podcasts are hosted by Geekcast.fm where there are many very educational and informative podcasts covering marketing, traffic generation and affiliate marketing.
Along with the forum launch is the release of a free iPhone application where affiliates and merchants can access the Affiliate ABCs podcasts on their phones.
After building Affiliate ABCs.com and recording many podcasts, many merchants started asking Carney and O'Hare questions about getting their programs set up correctly and questions about attracting affiliates. Since they have been affiliate managers and consultants for several years they started a second podcast, Merchant ABCs. It is a more structured series of podcasts to educate Merchants that want to start affiliate programs on what steps they should take.
Carney and O'Hare have a variety of guests on their podcasts that are industry experts, so that what people hear isn't only their opinions, but are proven ideas and facts. Expert affiliates, consultants, and affiliate managers share their ideas and secrets to making money online and creating a successful affiliate program. The ABCs Plus forum was created to give people a place to discuss those podcasts and successful affiliate programs. The best thing about the forum is that the podcasts and information are all free. There isn't a charge to get information and advice on the forum.
The merchants that are represented on the forum are managed by Team Loxly Affiliate Managing and Consulting. Team Loxly was started by Carney in 2006. From working with affiliates through the years and being an affiliate marketer before that, she knows the ins and outs, and knows that affiliates need a place to anonymously discuss their business and find educational resources. The programs are mostly product sales, but they are becoming bigger in the B2B space with several service programs.
# # #