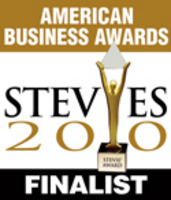 At Motive we have always focused on the quality of our affiliates and managing a close relationship with them, the result is lasting and loyal partnerships and an effective ROI for our advertisers.
San Diego, CA (PRWEB) May 14, 2010
Motive Interactive Inc a technology driven Internet marketing company and leading invite-only Affiliate Network was named a Finalist for the Fastest-Growing Company of the Year category in The 2010 American Business Awards.
The American Business Awards are the nation's premier business awards program. All organizations operating in the U.S.A. are eligible to submit entries - public and private, for-profit and non-profit, large and small.
This year's Stevie Award winners will be announced during the annual gala on Monday, June 21 at the Marriott Marquis Hotel in New York City. More than six-hundred executives from across the U.S.A. are expected to attend. The event will benefit Oceana (oceana.org),the largest international organization focused on ocean conservation. The ceremonies will be broadcast on radio nationwide by the Business TalkRadio Network.
More than 2,700 entries from organizations of all sizes and in virtually every industry were submitted for consideration in more than 40 categories, including Most Innovative Company of the Year, Management Team of the Year, Best New Product or Service of the Year, Corporate Social Responsibility Program of the Year, and Corporate Environmental Responsibility Program of the Year. Motive Interactive will be competing in the Fastest-Growing Company of the Year category for companies with up to 100 Employees.
"We are grateful that our company has been named a finalist in The American Business Awards for 2010," says Motive Interactive CEO and Founder Brendan J. Smith. "This further validates our position as a company poised to successfully lead the online marketing space, our seasoned staff has worked hard to gain this kind of recognition, and we believe it's due to our proven proprietary technology, a strong sales staff, and unsurpassed innovation and experience. This recognition reaffirms that the future of online marketing will be led by quality focused ad networks that have built proprietary technology and gained stability through a wide range of adverting partners.
Members of the Awards' Board of Distinguished Judges & Advisors and specialized final judging committees will select Stevie Award winners from among Finalists in final judging that will continue through May 28. Finalists were chosen by business professionals nationwide during preliminary judging in April and May.
Details about The American Business Awards and the list of Finalists in all categories are available at http://www.stevieawards.com/aba
About Motive Interactive, Inc
Motive Interactive was founded by Brendan J. Smith and Colin Johnson in 2003. The company continues to build its reputation on advanced technology, customer service, accountability, and quantifiable results. In an industry where companies rely heavily on third party software, Motive is differentiated as a leading cross vertical performance-based (CPA, CPL, CPS) affiliate network, powered by internal proprietary technology. Notably, Motive Interactive is also the first truly exclusive invite-only network. "Many networks still boast more than 15,000 affiliates, while others all of a sudden claim to have cleaned things up and become exclusive. At Motive we have always focused on the quality of our affiliates and managing a close relationship with them, the result is lasting and loyal partnerships and an effective ROI for our advertisers," said Luke Smith, Motive's Network Manager.
Motive Interactive's unique invite-only approach combined with an award winning proprietary technology is earning this company much deserved recognition in the industry including: Top 50 Affiliate Network by Website Magazine, Top 20 Performance Marketing Networks by mThink's Online Advertising Bluebook 2010, Summit Emerging Media Award for advancement in technology, 2010 Hot Companies by Network Products Guide and Entrepreneur Magazine's Hot 100 List of fastest growing companies in America to name a few.
If you are an affiliate marketer, Internet advertiser, or an outsourced affiliate program management agency interested in discussing the benefits of working with Motive Interactive, please contact Mike Schwartzberg, VP of Sales, at 858-677-0792 ext. 117.
About The Stevie Awards
Stevie Awards are conferred in four programs: The American Business Awards, The International Business Awards, the Stevie Awards for Women in Business, and the Stevie Awards for Sales & Customer Service. Honoring organizations of all types and sizes and the people behind them, the Stevies recognize outstanding performances in the workplace worldwide. Learn more about The Stevie Awards at Stevie Awards.
# # #