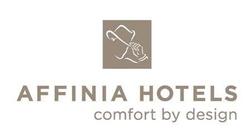 New York, NY (Vocus) January 5, 2009
For travelers with cabin fever looking for some city excitement, Affinia Hotels in NYC, Chicago and Washington, D.C. is offering a 9-day sale from January 5 through January 13, featuring the limited-time opportunity to book the best room rates available through March 31, 2009 with discounts ranging from 35-45%. Rates start at $149 in New York, $99 in Chicago and $109 in Washington, D.C, and are only available when booking through http://www.affinia.com during the nine-day promotion period for stays through March 31, 2009.
The sale is available for stays at Affinia's four New York hotels, the Affinia Manhattan, Affinia 50, Affinia Dumont and Affinia Gardens, as well as the Affinia Chicago and the Liaison Capitol Hill, An Affinia Hotel in Washington, D.C.
Affinia Hotels has prime locations in New York, Chicago and Washington, D.C.
Offering the industry's most innovative guest service program, My Affinia allows business and leisure guests to tap the ease and immediacy of the Internet to create experiences of total customized comfort. Operated by Denihan Hospitality Group, a privately-owned company with more than 40 years of hospitality management expertise, Affinia Hotels is a proud member of a worldwide alliance of hotels including Joie De Vivre in the United States, Thistle Hotels in the United Kingdom, Rotana Hotels in the Middle East and First Hotels in Scandinavia.
For more information, visit http://www.affinia.com or call 1-866-AFFINIA.
Contact:
Maria Andriano
Redpoint Marketing PR, Inc.
212.229.0119
andriano (at) redpointpr.com
Caroline Michaud
michaud (at) redpointpr.com
###