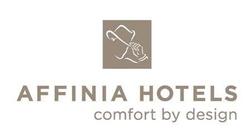 By leveraging our growing national presence, Affinia Hotels will help Common Ground in its mission to end homelessness by providing direct assistance for its constituents in a number of ways.
New York (Vocus) February 17, 2009
Affinia Hotels and Common Ground, a leading not-for-profit whose mission is to end homelessness, have launched a multi-faceted partnership in the new year that has kicked off with a number of dynamic endeavors, including a cause-related marketing campaign linked to winter travel, donation of furniture and Affinia associate "street-to-home" volunteer missions.
The partnership between Affinia Hotels, the first corporate partnership of this kind for Affinia, and Common Ground includes several major initiatives ranging from monetary support, Affinia associate volunteer opportunities, job training and donations of hotel furnishings and furniture, to local fundraising, awareness-building campaigns and support of existing Common Ground programs and events. Since the beginning of 2009, support has included:

"Winter Wonderland" cause-related campaign that includes a $10 donation to Common Ground on behalf of every traveler who books the Affinia package at properties in New York, Chicago and Washington, D.C. through March.
Participation of dozens of Affinia volunteers in two major street initiatives: "Street To Home" transition support and Department of Homeless Services HOPE Project
Donation of furnishings for use by residents in Common Ground facilities, such as beds, bedding, furniture and more
Common Ground, a pioneer in the development of supportive housing and other research-based practices that end homelessness, has a network of well-designed, affordable apartments that have enabled more than 4,000 individuals to overcome homelessness since its inception in 1990.
According to Brooke Barrett, co-CEO of Denihan Hospitality Group, owner and operator of Affinia Hotels, Common Ground is an organization that closely aligns with Affinia Hotels' core values to provide comfort, convenience and customization to guests.
"Every Affinia associate is excited about the partnership with Common Ground and the opportunity to make a significant difference in each of our neighborhoods," commented Barrett. "By leveraging our growing national presence, Affinia Hotels will help Common Ground in its mission to end homelessness by providing direct assistance for its constituents in a number of ways."
"The alliance with Affinia Hotels is a first for Common Ground," said Rosanne Haggerty, founder and president of Common Ground. "The energy, resources, and ideas that Affinia and its owner, DHG, have offered will have a huge impact on our work and mission to end homelessness. Their generosity will enable the Common Ground Institute to extend our important work to new cities like Washington, DC and Chicago." Common Ground's Executive Director, Tim Marx, praised Affinia's volunteer efforts as, "vital," saying, "The human capital that Affinia brings to the table is already proving invaluable in reducing street homelessness in New York City."
The partnership will initially focus efforts in New York City, home to four (soon to be five) Affinia Hotels and nine Common Ground housing facilities, including the organization's first, ground-breaking housing development: The Times Square. Purchased in 1991, and renovated in 1993, The Times Square is the nation's largest supportive housing residence, providing homes to 652 low-income and formerly homeless individuals. Common Ground recently opened the Montrose Transitional Residence in Westchester County, New York, in collaboration with the US Department of Veterans Affairs to assist homeless veterans, and has over 1,300 new homes in development to assist young people aging out of foster care who face homelessness, disabled adults, senior citizens, and families who have experienced homelessness.
In 2009, as Common Ground expands into Washington, DC and, through a partner organization, in Chicago, Affinia Hotels and their associates in those markets will host events, donate time and goods to help launch similar programs to aid in efforts to end homelessness in each city.
For more information about Common Ground and the alliance with Affinia Hotels, please visit http://www.affinia.com.
Affinia Hotels are in prime locations in New York City, Chicago and Washington, D.C. Offering the industry's most innovative guest service program, My Affinia allows business and leisure guests to tap the ease and immediacy of the Internet to create experiences of total customized comfort. Operated by Denihan Hospitality Group, a privately-owned company with more than 40 years of hospitality management expertise, Affinia Hotels is a proud member of a worldwide alliance of hotels including Joie De Vivre in the United States, Thistle Hotels in the United Kingdom, Rotana Hotels in the Middle East and First Hotels in Scandinavia. For more information, visit http://www.affinia.com or call 1-866-AFFINIA.
Common Ground is solving homelessness through innovative programs that transform people, buildings and communities. Common Ground is a 501 ( c ) (3) non-profit organization. For further information about Common Ground: http://www.commonground.org
Maria Andriano/Caroline Michaud, Redpoint Marketing PR for Affinia: 212.229.0119
Evan McLaughlin, Common Ground: 212-389-9338
# # #