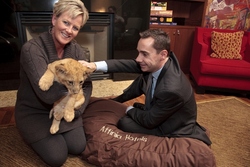 New York, NY (Vocus) December 12, 2009
Guests of the Affinia 50 (155 E. 50th Street) mingled with VIPs (Very Important Pets) from the Columbus Zoo including a baby lion cub, dingo, miniature horse, baby servals, baby flamingoes, and more at a special manager's reception in the hotel's Club Room, the evening of December 10th. Affinia Hotels are known for their pet-friendly "Jet-Set Pets" program, which brings the pet travel trend to a whole new level. Ms. Rapp and her menagerie were visiting New York City for appearances on national television.
Affinia Hotels, with prime boutique hotels in New York, Chicago and Washington, D.C., are designed to provide business and leisure guests with an experience of total customized comfort. Operated by Denihan Hospitality Group, a privately-owned company with more than 40 years of hospitality management expertise. For more information, visit Affinia.com or call 1-866-AFFINIA.
For more information or photography contact:
Melissa Eisberg
Redpoint Marketing PR, Inc.
212.229.0119
# # #