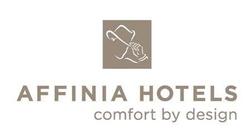 Sometimes you just have to get away with the girls.
New York (Vocus) February 23, 2010
Affinia Hotels in New York City invite travelers to "Carrie On" with their enthusiasm for the highly anticipated return of Carrie Bradshaw and her cohorts in Sex and the City 2 with a custom package that fulfills Carrie's advice: "sometimes you just have to get away with the girls."
Coinciding with the May 28 debut of Sex and the City 2, Affinia's five New York City hotels are offering a special "Carrie On" package featuring a split of champagne, a Sex and the City Hotspots Tour by On Location Tours, a canvas stiletto shoe bag to protect any Carrie-like impulse buys, one Sex and the City book featuring behind the scenes scoop on the movie, a 20% online discount on **Cosabella's Sex and the City Line of sexy lingerie and spacious accommodations ideal for a girls' getaway. Starting at $219 per night, the package is available from May 28 through September 6, 2010. For more details visit: http://www.affinia.com/SATC. "Sex and the City" and all related characters are the property of HBO Television.
The package is available at Affinia's five New York hotels: Affinia Shelburne (303 Lexington Ave.), the newest Affinia hotel that opened in June 2009 after a $25 million renovation, Affinia Manhattan (371 Seventh Ave.), Affinia 50 (155 E. 50th St.), Affinia Dumont (150 E. 34th St.), and Affinia Gardens (215 E. 64th St.). In addition, ladies can enjoy a hotel room spa treatment through Affinia's SPAffinia™ program and each hotel can help arrange an in-suite mani/pedi party.
In keeping with Affinia's brand promise of total customized comfort, travelers can tap their inner Carrie (or Samantha, Miranda or Charlotte) by purchasing museum tickets tailored to each of the main characters' interests. Fashion-fixated Carrie-types tour the Metropolitan Museum of Art's Costume Institute, while aspiring, sex-obsessed Samantha-types explore the Museum of Sex (naturally); art-loving Charlotte-types get tickets to the MoMA and Miranda-wanna-bes get a pass to the Museum of Natural History. Affinia also provides Mr. Big-types with VIP access and other special offers at Manhattan's legendary Birdland Jazz Club. Museum and jazz tickets are available for purchase online through the Affinia Hotels My Affinia e-concierge service.
Affinia Hotels, with prime boutique hotels in New York, Chicago and Washington, D.C., are designed to provide business and leisure guests with an experience of total customized comfort. Affinia Hotels is operated by Denihan Hospitality Group, a privately-owned company with more than 40 years of hospitality management expertise. For more information, visit Affinia.com or call 1-866-AFFINIA.
*Rates are based on double occupancy and do not include taxes; a $79 charge will be added for each additional person.
** Official HBO Licensed Product ©2009 Home Box Office Inc. All Rights Reserved Sex and the City HBO and related trademarks are the property of Home Box Office, Inc.
Contact:
Maria Andriano/Melissa Eisberg
Redpoint Marketing PR, Inc.
212.229.0119
###