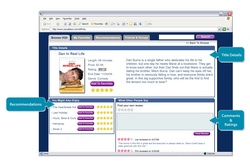 Our industry's shared vision for on-demand television is for tens of thousands of movie and program choices satisfying every viewing desire
ACTON, Mass. (PRWEB) May 12, 2008
"Our industry's shared vision for on-demand television is for tens of thousands of movie and program choices satisfying every viewing desire," said Alan Hoff, SeaChange's senior director of on-demand solutions. "We're well on the way to that widespread reality, but even today operators aren't getting the most out of their titles and subscriber satisfaction is at risk. SeaChange Affinity overcomes this threat by enabling operators to turn VOD into an individually managed and shared experience for every subscriber. And Affinity will also capture attention for long-tail content with promotions that target individual preferences."
What's in Affinity
SeaChange's Affinity provides next-generation social networking, search and recommendation capabilities to increase the use of an operator's entire on-demand library by integrating the web's convenience with the on-demand television subscriber experience.
The Affinity application is comprised of customized web portals where subscribers set preferences, write recommendations, rate content and share recommendations with other subscribers; and, at the operator's site, a software application that adds personalized on-demand content navigation to television's existing on-demand guide.
Affinity's embedded recommendation engine responds to intelligence such as content use, subscriber history and profiling to automatically promote movies and programs according to subscriber preference. Affinity offers automated recommendations and also allows subscribers to share recommendations, searches, ratings and commentaries with friends and family via the web portal, or SeaChange-developed applications for Facebook and other social networks.
How Affinity works
Subscribers use a PC, phone or other web-enabled device to log into a website hosted by an operator, or by SeaChange. The main portal view features recommended VOD content from friends, or from the recommendation engine and operator promotions. To make a recommendation to others, a subscriber simply selects the content description and designates recipients from a friends list. The Affinity portal's content hierarchy mirrors the operator's on-demand guide.
Additionally, searches can be run on a range of parameters, such as title, actor, director, genre, and peer ratings or operator promotions. Subscribers can accept recommendations and push the selected content to their "personal folders" within the on-demand guide.
Axiom On Demand: Foundation for Affinity
SeaChange's Axiom On Demand open content delivery platform is the source for billions of on-demand streams delivered by Cablevision, Comcast, Cox, Rogers Cable, Virgin Media and other cable and IPTV companies around the world. SeaChange also announced today Axiom On Demand 5.0, the first VOD platform to bring advanced search and social networking (Affinity), time-shifting (ReStart TV), advanced advertising (AdPulse) and gaming (Game Now Lite) to television.
SeaChange demonstrates on-demand's new era of personalization, efficiency and profit at the National Cable Telecommunications Association's Cable Show in New Orleans, May 18-20, booth 3529.
About SeaChange
SeaChange International is a leading provider of software applications, services and integrated solutions for video-on-demand (VOD), digital advertising, and content acquisition monetization and management. Its powerful open VOD and advertising software and scaleable hardware enable cable and telco operators, as well as broadcasters, to provide new on-demand services and to gain greater efficiencies in advertising and content delivery. With its Emmy Award-winning and patented technology, thousands of SeaChange deployments are helping broadband, broadcast and satellite television companies to streamline operations, expand services and increase revenues. Headquartered in Acton, Massachusetts, SeaChange has product development, support and sales offices around the world. Visit http://www.schange.com.
MULTIMEDIA GALLERY http://www.businesswire.com/cgi-bin/mmg.cgi?eid=5681631