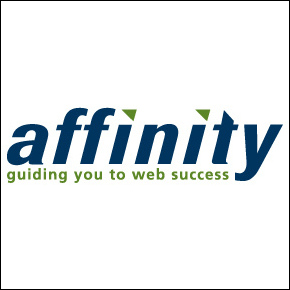 Fort Lauderdale, FL (PRWEB) January 19, 2007
Affinity Internet, the leading web site, ecommerce and online marketing service provider for web professionals and small businesses, today released the results of its 2006 eCommerce Survey. The company's 2nd annual survey polled over 2,000 small business owners at the height of the 2006 holiday season. The poll targeted both Affinity and non-Affinity customers, and was designed to measure how shifts in eCommerce trends will impact small to medium-sized businesses (SMBs) during the year to come. Survey results show an overwhelmingly optimistic outlook towards eCommerce--with a much higher degree of optimism over last year. Results also indicate that SMBs will commit greater resources to Search Engine Optimization (SEO) marketing and other online efforts in 2007. Perhaps not surprisingly, the survey also found that compared to the average small business owner, Affinity's customers have a broader understanding of the effectiveness of online marketing.
In an effort to gain greater insight into online marketing trends, Affinity's survey consisted of questions dealing with online sales activity and the effectiveness of currently employed marketing and advertising strategies. The results also identified which tactics are the most valuable in maximizing the sales opportunity presented by online shopping and web traffic.
"Our eCommerce survey provides us with direct input from our clientele, which then helps us to create tools and services which drive our customers' success in the highly-competitive online marketplace," said John Enright, vice president of marketing, Affinity Internet. "Affinity customers use their Web sites as an adjunct means of creating income or as a way to advertise their business, and this time of year is an excellent time for them to reevaluate business strategies as it relates to the Web. As a result, it is our responsibility to prepare our customers to take full advantage of online advertising opportunities, both meeting and exceeding their 2007 sales goals."
Overall results from Affinity's customers illustrated significantly greater optimism towards online marketing and eCommerce. The respondents were more inclined to optimize sales potential by using online tools including Search Engine Optimization (SEO) and Pay-Per-Click (PPC) advertising.
Survey data from Affinity customers shows:
72% consider themselves somewhat-to-fairly knowledgeable in online marketing technologies and their effectiveness
45% generate annual revenues between $100K and $5M, with 30% reporting sales that are generated entirely online
79% operate businesses with 10 or fewer employees
61% state a likelihood of using search engine marketing next year
Conversely, the non-Affinity customers demonstrate a considerable lack of understanding of online marketing tools and less of an appreciation for online opportunities.
Survey results of non-Affinity customers' show:
Only 5% were 'very knowledgeable' of online marketing technologies.
A high percentage--46%--said they don't know enough about it/how to do it
A very small group--only 13%--forecast their upcoming budget for online marketing to be in the $1K - 10K range
Far fewer, at 39%, state a likelihood of using search engine marketing next year
In summary, this survey illustrates a trend that as SMBs continue to see results and invest incrementally more in online marketing efforts and eCommerce, the Internet becomes more and more integrated into their overall business success.
About Affinity Internet
Affinity Internet is committed to empowering its customers to write their own Internet success stories.
The company provides more than 200,000 web professionals and small businesses the tools to develop, maintain, market and support their web presence, making the Internet a useful and relevant part of their businesses. Affinity's brands include: ValueWeb, for web design, eCommerce hosting and online marketing solutions and Gate.com, the cutting-edge UNIX and Windows web hosting service. Affinity's co-brand and private-label partner programs enable leading service providers and Internet brands to extend their value proposition to include feature-rich web site, ecommerce and online marketing services and applications.
Affinity's services are supported by its customer service "success guides" - knowledgeable consultants with a passion for serving small businesses and a dedication to ensuring their growth and success.
Media Contacts:
Fusion PR for Affinity Internet
Tara Settembre 310-481-1431, Ext. 20
Michelle Van Jura 310-481-1431, Ext. 15
###