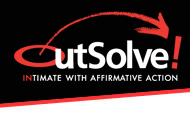 As the OFCCP is upping its game, so must we. This expansion will afford us the opportunity to offer unparalleled expertise and flexibility as an industry leader.
Metairie, LA (PRWEB) October 18, 2011
OutSolve, the nation's leading service provider of affirmative action plans and OFCCP compliance solutions, today announced a strategic expansion to include a western region office based in Sacramento, California.
"On behalf of my partners Tracy Leefe and Kathy Panzeca, we are truly excited to expand our presence to the West Coast and to welcome Chris Lindholm and Desiree Throckmorton to the OutSolve family," said Jeremy Mancheski, OutSolve principal. "As the OFCCP is upping its game, so must we. Desiree and Chris are highly regarded professionals who add years of experience and industry knowledge to our staff. This expansion will afford us the opportunity to offer unparalleled expertise and flexibility as an industry leader."
Chris Lindholm will serve as Vice President of Compliance in OutSolve's West Coast office. Lindholm brings with him more than 15 years experience in affirmative action planning and EEO compliance. Having supported thousands of organizations in affirmative action plan creation, implementation and OFCCP audit support, Lindholm's experience is a natural fit for OutSolve. His broad range of experience also includes enterprise sales, marketing, consulting and recruitment.
"Having known the leadership at OutSolve for over a decade, I am thrilled to join this dynamic team as we work together to provide our clients with a broad range of services to align with all of the changes at the Department of Labor," stated Lindholm. "We have a shared vision to introduce a level of service not yet seen in the EEO industry."
OutSolve has also hired Ms. Desiree Throckmorton to serve as Director of West Coast Operations. Throckmorton has eight years of experience providing OFCCP compliant affirmative action plans and audit support to enterprise capacity contractors nationwide. Throckmorton's comprehensive knowledge includes Executive Order 11246, The Uniform Guidelines, OFCCP compliance evaluations and support for statistical Compensation and Adverse Impact Analyses.
The expansion of OutSolve into the West Coast signifies the continued growth and success of the company and represents its mission to be the leading provider of comprehensive affirmative action planning solutions while providing unmatched customer service.
About OutSolve
OutSolve is a nationwide provider of Affirmative Action Plans and OFCCP compliance services. The company's services include: OFCCP compliant affirmative action plan development; compliance evaluation, preparation and support; affirmative action plan implementation support and training; compensation/pay equity analysis; customized management reporting; diversity metrics; and EEO-1 and VETS100 reporting. OutSolve's unparalleled customer service, cost-effective pricing and scope of services has made it the nation's premier affirmative action outsourcing provider. For more information please visit http://www.outsolve-hr.com. For the latest affirmative action and OFCCP news, follow OutSolve on Twitter at @outsolveaap.
# # #