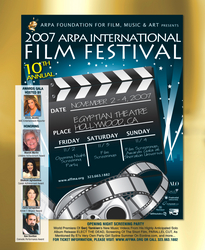 House of Sand and Fog
Beverly Hills, CA (PRWEB) October 4, 2007
Arpa Foundation for Film Music and Art (AFFMA) will present the 10th Annual Arpa International Film Festival on November 2nd-4th, 2007. The festival is set to take place at the world famous Egyptian Theater in Hollywood. Festival happenings are to include an Opening Night Screening Party featuring recording artist Serj Tankian's (Voice of System of a Down) twelve new music videos from his highly anticipated solo album release "Elect The Dead", Emmy Award winning actor Michael Goorjian's film, "The War Prayer" starring Jeremy Sistso, and a special screening of Parallel Cut as mentioned by E!'s very own Sydne Summer on Eonline.com. There will also be additional Films, Industry Panels, Filmmaker Discussions, and a Closing Night Awards Gala to be held at the Sheraton Universal Hotel.
The festival is dedicated to cultivating cultural understanding and global empathy, creating a dynamic forum for international cinema with a special focus on the work of filmmakers who explore the issues of diaspora, exile, and multiculturalism. It also celebrates the ideas of independent thought, artistic vision, cultural diversity and social understanding.
The Film Festival Personalities for 2007
Mardik Martin - Lifetime Achievement Award
Screenwriter Mardik Martin co-authored the legendary films "Raging Bull" and "Mean Streets", with Academy Award Winning Director, Martin Scorcese. Their collaborations also include "Last Waltz", "ItalianAmerican", and "New York, New York". In 2006, the Writers Guild of America named Raging Bull as one of the 101 greatest screenplays ever penned.
Shohreh Aghdashloo- Career Achievement Award
Academy Award Nominated Actress Shohreh Aghdashloo, is known for her unforgettable role in the acclaimed film "House of Sand and Fog", alongside Sir Ben Kingsley. She has made countless appearances in Films including, "The Lake House", "X-Men: The Last Stand", and "The Nativity Story" and on Television in hits like, "24", "Grey's Anatomy", and "Will & Grace." As the first Middle Eastern actress to be nominated for an Oscar, Shohreh continues to be a groundbreaking force in the arts.
Carla Garapedian - Armin T. Wegner Award
Filmmaker Carla Garapedian, Director of "Screamers", began her career as BBC's sole American on-screen journalist, then freelance reporter, and eventually producer. Now, her documentary film that follows hard rock band, System of a Down in a ground-breaking exploration of the Armenian Genocide, has solidified her as an important storyteller for her generation.
Ken Davitian - Comedic Performance Award
Actor Ken Davitian , known for his hilarious performance in "Borat", brought character Azamat Bagatov to life on the big screen. Due to his undeniable gift of evoking laughter through his performances, he has been cast in Warner Brothers film "Get Smart", starring Steve Carrel and Anne Hathaway.
Alicia Jacobs - Our Host
Alicia Jacobs is a former Miss Nevada USA and Miss United States. She covers entertainment news at the Las Vegas NBC affiliate, KVBC. Jacobs was an entertainment correspondent for the Geraldo Rivera Show, reports for MSNBC and Scarborough Country, and is a contributing correspondent for Access Hollywood.
Past honorees include (in alphabetical order):
Levon Chalukian, Atom Egoyan, Dr. Michael Hagopian, Jim Hirsh, Howard Kazanjian, Arsineh Khanjian, Hank Moonjean, Robert Papazian, Arthur Sarkissian, and more…
Past attendees include (in alphabetical order):
Jennifer Blanc, Mindy Burbano, Dean Cain, Jason Cook, Denise Chamian, Dana Daurey, Josie Davis, Vivica A. Fox, Dean Haglund, Justin & Lindsay Hartley, Tippi Hedren, Sean Kanan, Joel Klug, Cindy Margolis, Kristin Malia, Cheech Marin, Valerie McCaffrey, Alanis Morrisette, Shelley Morrison, Roselyn Sanchez, and more…
For more information on this year's festival schedule and sponsorship opportunities, as well as for highlights on the festival and filmmakers, as it takes place, please visit: http://www.affma.org
To purchase tickets, please visit: http://www.itsmyseat.com
All sponsorships are 100% tax deductible. Arpa Foundation for Film, Music and Art is a charitable, non-profit, tax-deductible organization registered as a 501 (c) 3 Corporation.
About AFFMA and The Arpa International Film Festival
Arpa Foundation for Film, Music, and Art was founded by art patron, Sylvia Minassian in 1995, in an effort to support emerging filmmakers, musicians, and artists. The festival, an annual celebration, assists the artistic community in reaching the broadest possible audience, enabling the public to experience the power of film, music, and art in Los Angeles and abroad.
For 12 years, AFFMA has celebrated the many talents within the international artistic community by awarding over $100,000 in grants to various individuals in the arenas of Film, Music, and the Arts. The festival, in its 10th consecutive year, has attracted a diverse audience through exposing the works of today's foremost filmmakers and through its philanthropic support aims to be a force within the international film making community.
###