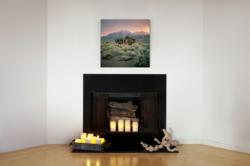 "We want to change the way people discover and buy art by delivering remarkable and unique art right to the consumer's inbox, and then giving them a short window to decide if they want it or not." --Adrian Salamunovic, co-founder of CanvasPop
New York, NY (PRWEB) August 14, 2012
CanvasPop, the global leader in personalized digital art, has launched the world's first flash sale site dedicated to affordable digital and Instagram art called "LTD. by CanvasPop". CanvasPop is the first Internet art retailer to enter the group buying market with a strong emphasis on carefully curated art. LTD. is committed to empowering artists while helping consumers discover remarkable art through a unique shopping experience.
LTD. features each artist for a limited time only, giving shoppers the exclusive opportunity to own a numbered edition print, saving up to 90% over what it would cost in a traditional gallery. Prices will start at $49 for a 12" x 12" (a regular value of $299) and just $99 for a 20" x 20" (a regular value of $399).
LTD. launched with renowned photographer, Cole Rise, one of Instagram's most popular photographers as well as the original creator of Instagram's "Rise" filter and designer of the Instagram logo. Cole has over 235,000 followers on Instagram alone.
"It's incredible to see images created & edited with phones make the leap into the world of fine art" said Rise. "There are so many amazing mobile photographers on Instagram, and it's refreshing to see a company like CanvasPop give credence to their art form."
Upcoming artists include well-known photographers Lauren Randolph (also known as Lauren Lemon) and Richard "Koci" Hernandez.
"We want to change the way people discover and buy art by delivering remarkable and unique art right to the consumer's inbox, and then giving them a short window to decide if they want it or not" said Co-founder of CanvasPop, Adrian Salamunovic "If you like it, buy it at a great price or it will be gone- it's a fun, visceral way to shop for art. It's really powered by the fear of missing out."
LTD. puts the artist first by handling all aspects of manufacturing and shipping, then splitting the profits with the artist themselves. Instead of focusing on volume, LTD. will remain highly focused on curation and quality.
The growing home products category represents $130M of the $2.7B US group buying industry, and an increasing trend towards affordable luxury highlights the huge potential for the affordable art market.
"For us it's really about innovating and creating new, exciting, desruptive business models that will benefit artists and consumers by connecting them directly. Consumers find new art, they share, they buy everyone wins." Said Adrian Salamunovic.
Every LTD. piece is numbered and accompanied by a gallery card, digitally signed by the artist.
About CanvasPop
CanvasPop is the web's most innovative provider of custom, high-quality canvas printing services. CanvasPop empowers photographers, digital artists, interior designers and everyday customers to print their images on high quality canvas. CanvasPop allows anyone to print any image, including Facebook and iPhone pictures, at virtually any size regardless of the original resolution of the image. CanvasPop's goal is to provide both consumers and professionals with the easiest way to print any image on canvas. CanvasPop has printing and distribution facilities in the United States, Canada and the United Kingdom. CanvasPop is a DNA 11 company. For more information please visit http://www.canvaspop.com/ltd.
About Cole Rise
Cole Rise has spent the better half of his life behind the lens; stalking cows and lying in the grass to capture the landscape. You may have seen his work in a few magazines, art blogs, CD covers and the like, or used one of his filters on Instagram. He can't tell you how big the universe is, or why we're really here, but his work sometimes flirts with the idea of knowing. Cole Rise is also credited with designing the Instagram logo, as well as developing Instagram's "Rise" filter. For more information please visit http://www.colerise.com.
About Lauren Randolph
Lauren Randolph is a creative portrait photographer based out of Los Angeles, also known as "lauren lemon." Lauren has over 226,000 followers in Instagram. For more information please visit http://photolauren.com/.
About Richard Koci Hernandez
Richard "Koci" Hernandez is a national Emmy® award-winning video and multimedia producer who worked as a photographer at the San Jose Mercury News for 15 years. His work for the Mercury News has earned him two Pulitzer Prize nominations and was awarded a national Emmy® award for the New Approaches to Documentary category. His work has appeared in Time, Newsweek, The New York Times, Wired Magazine and international magazines. For more information visit http://richardkocihernandez.com/.