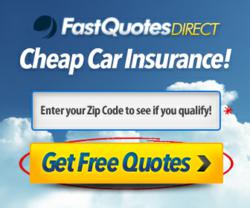 The Best Insurance Companies, All In One Listing!
Newark, NJ (PRWEB) October 17, 2012
It's a known fact that while people are trying to keep up with the demands of a fast paced world in a tough economy, time is money and most have neither to spare. Cheaper auto insurance sounds appealing to most drivers but the thought of going through the process of finding a better rate seems time consuming and stressful.
Fast Quotes Direct understands these issues and are pleased to announce they have refined their system and released a new insurance comparison tool that delivers competitive results in just 3 easy steps.
Compare Car Insurance Online In Just 3 Easy Steps! (click here)
When going through beta testing of the site, engineers kept their focus on the user, learning that consumers want great deals but don't want, or have time to think about how to achieve the best results. Another important decision was how to know which insurance company was going to give them the best deal while still maintaining a high quality level of insurance coverage.
Now with the final launch of the site live, visitors are pleased with the results they are getting. By simply entering in their zip code the website then returns a list of the best insurance companies in their area. Instead of having to search the web for quality providers they are given a list of pre-qualified insurance companies that actually compete for their business in the listings by offering discounts and incentives to stand out from the other providers.
A welcome and refreshing approach to auto insurance, finally the choice and control is in the consumers hands with FastQuotesDirect.com. Knowing they are getting the best rate with insurance companies they can trust has led to the sites traffic growing rapidly as people tell their friends about the impressive results. In some cases the savings have been up to 65%, while on average many users are save hundreds.
To try the site today and compare auto insurance rates for free in under 5 minutes, visit FastQuotesDirect.com today! (click here)