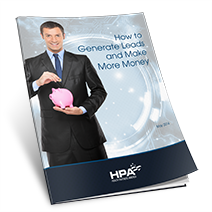 'November (the start of the open enrollment season) will be here before you know it,' says Blackwell. 'So agents need to get busy if they want a successful open enrollment period. This paper should get them started.'
Birmingham, Alabama (PRWEB) May 15, 2014
Health Partners America, a company that provides training, tools, and technology solutions for insurance agents and employers who are navigating the health reform legislation, announces the release of its new whitepaper designed exclusively for insurance agents – How to Generate Leads and Make More Money. This 12-page document was written to provide health insurance agents and brokers with a step-by-step "recipe for success."
"Since the passage of the Affordable Care Act, HPA has been providing agents with training and tools to help them succeed," explains Mel Blackwell, CEO of Health Partners America (HPA), "but for some of our Partners – that's what we call the agents who use our system – there seemed to be something missing." That something, says Blackwell, is a series of step-by-step instructions they can follow to generate leads for the individual health insurance policies and voluntary products offered through their customized private exchange website, which is designed by HPA.
This new whitepaper provides HPA's Partners, as well as other insurance agents, with that success formulas. It also educates brokers on the tools, training, and other materials HPA provides to help them find success with these formulas.
The paper is divided into two sections. The first part explains how to advise employers that currently offer health insurance but whose employees might benefit from the generous government subsidies available in the individual market. If an employer drops its group health plan, employees are provided with a special enrollment period during which they can purchase coverage on a guaranteed-issue basis and apply for a premium tax credit.
However, as the paper points out, not every employer offers health insurance to its employees, and these companies, which in the past weren't very good prospects for insurance agents, actually provide more opportunity for brokers than companies that do offer health insurance because 1) there are more of them, 2) there is less competition for their business, and 3) they're an easier sale. So part two of the paper provides readers with a "short cut" they can follow to generate leads from these employers.
"November (the start of the open enrollment season) will be here before you know it," says Blackwell. "So agents need to get busy if they want a successful open enrollment period. This paper should get them started."
Health Partners America is offering the full report at no cost through the company's website, and you can learn more about getting your own private exchange here.
About Health Partners America
Since 2007, Health Partners America has been providing game-changing training and solutions to agents and brokers nationwide. HPA is a technology and consulting company that works with and through brokers in order to engage with the marketplace through healthcare reform. HPA Partners with agents and brokers nationally to bring them technology solutions, private exchange sites, marketing tools, training, and leverage to help them be more successful.
If you'd like more information about this topic or about HPA, please contact Katie Burns at 205-443-2184, media(at)healthpartnersamerica(dot)com, or visit http://www.healthpartnersamerica.com.