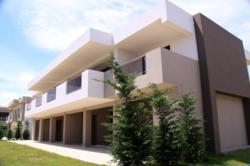 Having your own holiday base is a lifetime dream for most people. That's why we decided to sell our holiday homes at the prices of a hybrid car.
Halkidiki, Greece (PRWEB) June 03, 2011
Holiday homes are an elusive dream for the everyday people. What could easily be described as "a holiday home for everyone", has been finally released here in Gerakini, Halkidiki under the Complex Elia code name. Complex Elia consists of 56 unique studios and apartments overlooking the Gulf of Toromaios, covering a total area of 4,500 sq. meters.
The complex was created by Holdom Development in the hub location on Gerakini, with easy access to most of the Halkidiki's hot destinations. Elia studios and apartments complex was built to comply in full with the luxury standards of modern living although, following the founder's philosophy aiming at providing high quality yet affordable construction products, the prices start as low as 35,000€.
"Giving the chance to anyone to afford his holiday home is of great importance for us" said Alexandros Holidis, the founder and owner of Holdom Development. "Having your own holiday base is a lifetime dream for most people. That's why we decided to sell our holiday homes at the prices of a hybrid car. Hmm… maybe dreams come true in Halkidiki".
Elia Complex has a number of features that add great value to the holiday properties. There is a large outdoor swimming pool as well as roofed parking space for most of the studios and apartments. The complex has permanent superintendence for the residents and the properties. Moreover Holdom Development offers the possibility of tailor-made constructions based on the unique needs of the potential owner.
"But the best part about Elia Complex is the location. A holiday home does not have to be a binding destination!" adds Jimmy Kottidis, sales manager at Holdom. "Halkidiki is well-known for the multi-style vacation options that offers to the locals and the seasonal tourists. Gerakini provides easy access within minutes to everything, from the peaceful sandy beaches and the pine trees to the noisy beach bars and the hot night life. You see the trick here? One holiday home, countless holiday options".
Gerakini is located ideally between Kassandra and Sithonia, the two peninsulas that constitute the cosmic part of Halkidiki. Each side of Kassandra and Sithonia has its own personality and attracts different types of tourism. Gerakini is the hub spot of Halkidiki and is one of the most developing areas with sparse buildings and good spatial planning.
Halkidiki's climate is characterized by mild winters and long lasting sunshine. With the typical temperate Mediterranean climate, Halkidiki allows for holidays all year round as well as an extended period for summer vacations, from May to October.
Holdom Development is engaged in the construction and sale of urban and rural residences, holiday homes and commercial properties. Headquartered in Thessaloniki, Holdom Development develops a series of projects in selected areas of Thessaloniki and Halkidiki offering complete solutions for commercial and private use.
###