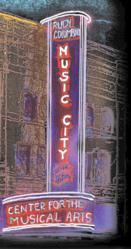 I want to create the kind of place I dreamed about as a young musician
San Francisco, CA (Vocus/PRWEB) July 14, 2011
San Francisco's Music City Hotel creates a unique service by providing a music rehearsal facility for musicians, performers and enthusiasts along with a quality and affordable hotel. This new concept combines quality lodging with a separate music rehearsal facility, located downstairs, where all sorts of music enthusiasts come together to create a city within a city.
"I want to create the kind of place I dreamed about as a young musician. A place to make music, meet and mingle with people from all over the world and incubate a new bohemian community around music, travel, and adventure in the world's greatest city. That's my hometown, that's my dream, that's Music City," said Rudy Colombini of Music City.
Rudy Colombini, hotelier, had imagined this type of hotel, combining a youth hostel, hotel and music rehearsal studio may seem like a crazy idea, which makes it perfect for San Francisco. Colombini, who also plays Mick Jagger in the Unauthorized Rolling Stones, enlisted the help of Jeff Irving, an audio engineer, night club booker and drummer in the URS. Irving and Colombini carefully chose the gear and put together fully equipped music studios in the basement of Music City.
Plug-N-Play was born without the hotel and opened three studios in November 2009 but Colombini suffered a brain aneurism 2 weeks after the opening. Colombini spent 18 months of recovery. Plug-N- Play hosts rehearsals for over 250 musicians a week in 9 Studios. The only facility in town that offers fully equipped music studios and a boutique hotel with youth hostel.
"If I learned one thing from almost having the lights go out, it's that you better go after your dreams today, Right now. As a young musician my dream was to have a national hit. I came close, but just missed. Now my dream is to create an environment for the next San Francisco music scene to take root and flourish. This city needs a musical adrenaline shot. The talent is here, I hear it," Rudy Colombini added.
Bands and musicians can rent the studios, but for those staying or residing at Music City, their time in the studio is free.
Interested customer can visit the hotel's website at musiccitysf.org or call (415) 367-5002.
About Music City
Music City is a Russian Hill hotel centrally located near Van Ness and Union Square shopping districts, giving the best reasonable price for locals and tourists who want to relax and enjoy the city but have smaller budget. Whether just escaping for a quick weekend or staying for a full vacation, Music City will help every step of the way, providing clean and well maintained rooms plus friendly staff to satisfy client's needs.
###