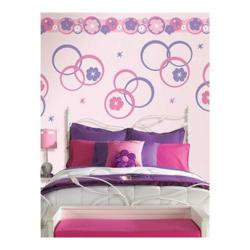 Our goal is to continuously evaluate what we can do to make our customers' shopping experience even more convenient.
Lake Forest, IL (PRWEB) July 31, 2012
While wall decals have long been valued for their easy application when decorating a room, Wall Decor Shops has made the redecorating process even easier with its affordable room makeovers. Full room kits save time and money by showing customers exactly what is needed to makeover a room, while brands such as WallPops and Trendy Peas make wall decor coordination easy with their variety of matching products.
Pre-assembled room kits take away the need to search through a website's catalog of products, and they are offered at a deeper discount than individually priced items. Wall Decor Shops utilizes in-house interior designers to select products for their customized room kit collections. "Our goal is to continuously evaluate what we can do to make our customers' shopping experience even more convenient" remarked Alex Miller, President of Renaissance Retail, Wall Decor Shops' parent company. Customers can simply select the design they like and the size of the room being decorated.
WallPops wall decals offer nearly endless color combinations and patterns that can be created on the wall with their square, dot, and stripe shaped wall stickers. Exciting colors and easy application at the core of the WallPops brand make redecorating a room quick and affordable makeover options. Visit WallDecorShops.com and click on room kits to view the newest WallPops kits, such as "The Pink Paisley Room" and the "Hanging Zsa Zsa Flowers." Choosing a room size enables the customized room kit to select the products and amount needed to decorate that room, and it shows how to position the wall decal pieces.
Trendy Peas manufactures designs to give nurseries a contemporary style. Any of their colorful decal sets can be used as a standalone focal point in a baby's room, but the selection of color options on each product makes coordinating a theme throughout the room exceptionally easy. One of the tree wall decals can anchor the room design near the crib, while branches and smaller trees can be used as accents on the other walls. Birds and owls can even be positioned to appear as if they are perched on the side of the crib. Another option is to use a decal set, such as "Popsicle Trees," that can be easily repeated around the room. Visit the Trendy Peas page on WallDecorShops.com for more ideas and to view their newest designs for your child's room.
Wall Decor Shops is the leading source for wall decor. As a family owned and operated business, it sells products that are both affordable and manufactured at the highest quality. By partnering with every major wall decor manufacturer in the industry, its mission is to provide outstanding design service, the lowest allowable prices, and the widest selection of wall decor styles and brands. Headquartered in Lake Forest, Illinois, Wall Decor Shops is a division of Renaissance Retail, the Internet's leading source for specialty consumer products.
Contact:
Timothy Benson
Renaissance Retail
847-932-4720 ext. 2704
Email: tim(at)walldecorshops(dot)com