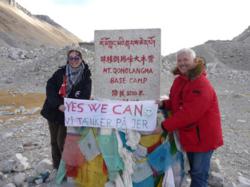 Tibet tours and Tibet trekking is easy and affordable in 2013.
(PRWEB) February 03, 2013
Tibet travel agent- Tibet Ctrip Travel Service enhanced its website tibetctrip.com recently and offers new affordable Tibet tours packages and Tibet trekking in 2013.
Tibet is a very unique and famous tour and trekking destination in the world for her stunning landscapes, Tibetan people and Tibetan culture. Tibet has a history of more than three thousands of years. And the Tibetan people are friendly and hospitable. The unique high altitude landscape is second to none. However, it is not easy for foreigners to travel to Tibet due to the poor transportation condition and Tibet permits restrictions.
Obtaining a Tibet permit, even in the face of the constantly changing restrictions on travel to Tibet, is a straightforward process. Also, depending on the time of year and local political climate, there may be additional restrictions on group sizes, traveler's nationalities and travel to certain areas of Tibet. Tibet travel becomes expensive in Asia. However, with more than 13 years successful Tibet travel service experiences, Tibet Ctrip Travel Service-TCTS has enhanced their Tibet tour and trekking packages for the worldwide travelers for 2013 with all permits inclusive, which is a good choice for foreign travelers to get the most authentic experience at an affordable price. "Whether you are a budget traveler or a solo traveler, we provide suitable Tibet tour and Tibet trekking packages with affordable prices", the agent announcement says. They provide a very simple and easy way to enquire a group tour to keep the cost down.
According to the official website http://www.tibetctrip.com, they also provide a travel companion platform "Find the travel Mates", which acts as an independent traveler's platform to gather and share their interests and experiences. It is easy to find fellow travelers with the similar travel interest and dates, users can broaden their Tibet tour options by forming independent small groups to share the cost among other like-minded travelers.
Tibetctrip.com is professional and local Tibet travel agency with over 13 years experience. All the new tours and Tibet trekking packages under their arrangements are carefully selected and thoughtfully designed to meet various customer's interests and budgets in 2013.