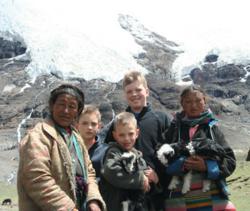 Just a few clicks away to arrange your Tibet family trip with local professional travel agency in Lhasa!
(PRWEB) May 10, 2013
Stunning mountain landscapes and a fascinating culture are prompting many families to travel Tibet in 2013. In recent years, a well-developed tourist infrastructure has taken Tibet from a far off and inaccessible place to a world famous travel destination. Lhasa based travel agency, Tibet Ctrip Travel Service-TCTS (http://www.tibetctrip.com), has recently made travel in Tibet more accessible to families with a new selection of family friendly Tibet tours. TCTS understands the needs of traveling families, organizing tours with flexible schedules that allow them to enjoy the tour while TCTS's travel staff takes care of the details! Popular tours include:
The Family Lhasa Culture Tour: This short time family tour of Tibet is perfect for families on a tight travel schedule! The quickest and easiest way of arriving in Tibet is by air; a native Tibetan guide will pick families up from the airport and accompany them to their hotel. Over this four-day tour of Tibet families will see world famous Tibetan culture sites such as Potala Palace, Jokhang Temple, along with Sera and Drepung Monasteries.
Tibet Culture and Landscape Trip: In 7 days, families will enjoy an introduction to Tibetan culture and history along with opportunities to take in some of Tibet's stunning landscapes. The tour begins in Lhasa where travelers will acclimatize to the altitude and enjoy visiting world famous Tibet attractions. Next the tour makes a day trip to Lake Namtso, a huge salt-water lake whose cave hermitages have attracted pilgrims for centuries. In addition, families will make an overnight trip to Shigatse via Lake Yamdrok and Gyantse.
Adventurous family tour of Tibet: Families looking for adventure need look no further; this epic 8-10 day journey features some of Tibet's most spectacular scenery, including Mt. Everest! The tour begins in Lhasa, allowing families to see places like Potala Palace and Jokhang Temple while acclimatizing to the altitude. Next the tour heads overland towards Everest making in Gyantse, Shigatse, and Shegar for rest and sightseeing. With all the beautiful scenery along the way, families will have several opportunities to stop for pictures.
Tibet family tours by TCTS are designed to give families the opportunity to relax and enjoy the scenery and culture while TCTS's staff takes care of details like guide's, hotels, and travel permits. TCTS's itineraries are fully customizable; whether families are looking to learn about Tibetan culture and history or get up close and personal with some of Tibet's stunning landscapes, a tour can be designed to meet their specific needs and interests. With summer in Tibet right around the corner, families are advised to start planning and book their tour now.
TCTS Post Address: Tibet Niwei International Travel Service, Co., Ltd (Niwei Building Room 302, No.13 North Linkuo Road,Lhasa,Tibet)
Tel/Fax (Lhasa area code):86-891-6342607,Mobile: 86-13628999610 (Tony), Post Code:850000
Email to sales AT tibetCtrip.com; TibetCtrip AT gmail.com, Use Google talk to chat with us: tibetctrip(at)gmail(dot)com.
Devin Moore provided this news release above on behalf of local Tibet travel agency TCTS (tibetctrip.com). Devin is a travel writer and independent economic analyst based in Springfield, Missouri USA. His economic research is currently focused on airfare pricing. Devin Moore works to spread awareness of Tibet and its people through publishing Tibet travel information.