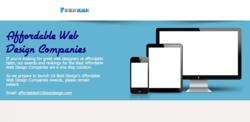 San Diego, California (PRWEB) May 27, 2013
10 Best Design started with a simple idea – connect those who are looking for talented web designers with the best web design firms in America. After achieving significant success and introducing thousands of individuals, entrepreneurs, small businesses, and enterprises to the top providers of web design services, 10 Best Design has come up with plans to embark on a new task. 10BD has announced plans to help those on a tight budget find the top inexpensive web design firms from around the world in their new Best Affordable Web Design Companies Awards.
The awards for inexpensive web design firms has been announced and will be known as 10 Best Design's Affordable Web Design Companies Awards. 10BD has also announced that these awards are now open for registration by web design companies from around the world.
In fact, the Affordable Web Design Companies Awards has yet to launch, and it has already begun to received a number of submissions to the competition from companies as far away as India and nearby as San Antonio.
"Our metrics indicated that a there is a very large market for people looking for cheaper web design services," says a 10 Best Design spokesperson. "We strive to cover all the bases when it comes to web design."
10 Best Design has decided to keep its Affordable Web Design Companies Awards separate from their other awards as they believe that it is important that users be easily able to discern between the two. Currently, all submissions for 10 Best Design awards, including those for affordable web design companies, can be entered via the 10BestDesign.com website.