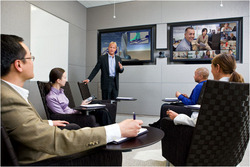 Brentwood, CA (Vocus) February 9, 2010
Solutionz Conferencing, Inc., a leading total conferencing provider of video conferencing , audio visual integrations, managed services, and grant services, will be co-hosting a webinar with Polycom on "Affordable Video Conferencing" on Wednesday, February 10th at 11:00AM PST.
These days, hour-long meetings rarely take just an hour. Between travel times and conflicting schedules, the work day seems to be getting longer and longer – which means less time for pressing work deadlines, not to mention friends, family, and life. However, with the implementation of video conferencing, the workday is able to be condensed, giving people the ability to be more productive in a shorter amount of time, thus providing time for job success and a well-balanced life.
Featuring keynote speaker and Director, Polycom Video Solutions Group, Lana King, the "Affordable Video Conferencing" Webinar will discuss why more and more businesses are turning to Affordable Video Conferencing solutions, how video conferencing can change your business, and what affordable means in today's marketplace.
Video conferencing is no longer just for the large enterprise – organizations of all sizes are realizing the benefits of Affordable Video Conferencing: increased productivity, substantial cost savings, and improved communication and collaboration. What are you waiting for? Register today and learn about video conferencing solutions that fit your budget!
About Solutionz
Solutionz Conferencing, Inc. is a nationwide total conferencing provider specializing in end-to-end video and voice communications, audio visual integration, managed services, and grant services, delivering the promise of face-to-face meetings regardless of distance.
About Polycom
Polycom , Inc. is the global leader in telepresence, video, and voice solutions, and a visionary in communications that empower people to connect and collaborate everywhere.
# # #