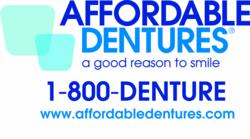 I join a long line of Affordable Dentures Practice Owners who pride themselves in delivering much needed dental care for very affordable prices."
Raleigh, NC (PRWEB) May 10, 2011
With the May 5 grand opening of a new Affordable Dentures by practice owner Christopher A. Parks, D.D.S. in Sullivan, MO, there are now 167 affiliated dental practices in 37 states offering Affordable Dentures. Dr. Parks graduated from the University of Missouri - Kansas City School of Dentistry, and opened his new practice at 400 Cumberland Way, Suite A, Sullivan, MO 63080.
Dr. Parks commented, "I am so proud to be opening a new practice in Sullivan, MO, affiliated with Affordable Dentures. I join a long line of Affordable Dentures Practice Owners who pride themselves in delivering much needed dental care for very affordable prices."
The Affiliated Practice Owners of Affordable Dentures provide same-day denture, partial, and tooth extraction services at half the price of industry averages. The organization was started 36 years ago in 1975, and has cared for over five million patients. Affordable Dentures has become the largest provider of Denture services in America.
"We are so proud to be growing our presence in Missouri," said Doug Brown, CEO of Affordable Care, the dental service organization that supports practices affiliated with Affordable Dentures. "We help so many people with their denture needs – hundreds of thousands each year – and we are very excited to be opening our fifth practice in the great state of Missouri."
The affiliated practices of Affordable Dentures are very different from most dental practices in that most general practices: 1) require appointments; 2) do not focus on dentures and related services; and 3) send denture impressions out to be made in commercial labs. At Affordable Dentures, the practice does not require appointments, the dentist is focused on denture and tooth extraction services, and every practice has its own on-site denture lab that allows the custom-crafting of dentures to meet the needs of each individual patient. Furthermore, the large network of affiliated practices at Affordable Dentures allows for the purchase of supplies in significant quantities and lower prices, and those lower prices are passed on to Affordable Dentures patients.
# # #