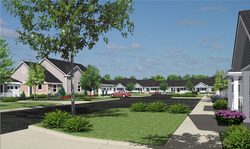 This project was truly an overall community plan. It is a milestone for everyone--those individuals who have been suffering from the blight, the City of Columbus, MiraCit Development Corporation, our co-developer, Ohio Capital Corporation for Housing, US Bank, as well as The NRP Group
Cleveland, OH (Vocus) August 28, 2009
The NRP Group announced it is the first recipient to receive Tax Credit Exchange (TCE) housing funds through the American Recovery and Reinvestment Act (ARRA) in Ohio. The Ohio Finance Agency (OHFA) announced the allocation to North Central Village in Columbus, a 74-unit affordable senior community situated in 12 one-story buildings that replaces a blighted mobile park on the east side of Columbus.
NRP has joined forces with MiraCit Development Corporation, a neighborhood based nonprofit organization to develop North Central Village as part of an overall revitalization plan for the Mock Road neighborhood. The development will act as a cornerstone to the neighborhood's redevelopment activities which include 344 residential units built or rehabbed representing $50 million of investment in the neighborhood in the last 10 years.
"This project was truly an overall community plan. It is a milestone for everyone--those individuals who have been suffering from the blight, the City of Columbus, MiraCit Development Corporation, our co-developer, Ohio Capital Corporation for Housing, US Bank, as well as The NRP Group," said Ken Outcalt, Sr. Vice President Development, The NRP Group LLC. "North Central Village is a critical component to the city and a local urban revitalization effort as it replaces blight with new, high quality, affordable senior housing."
Each North Central Village Resident is provided with a spacious, well-appointed two-bedroom apartment. Units boast efficient floor plans that connect the kitchen and living room area to create a large, open living space. The eat-in kitchens are equipped with ranges, dishwashers, refrigerators, and garbage disposals. The kitchen dining area also has a patio door that opens to a rear covered patio with private fencing. End units offer 1 car garages to their tenants. Other amenities include a clubhouse with fireplace, community room, and kitchen. Both a formal sitting area with comfortable sofas and tables and a more functional area are provided in this room that can be utilized for private events, bingo, and evening dance classes.
Co-developer MiraCit Development Corporation has been driving much of the housing and commercial revitalization efforts in the neighborhood for more than 15 years. Under the leadership of Dr. Edgar Posey, the faith-based organization has developed over 275 units of affordable and market-rate housing, including the Green View Estates subdivision, hailed as the City's first "green" residential community. OHFA recently awarded the development its "Sustainable Homeownership Excellence Award." Other projects include the Hegemon Crest subdivision, site of the first "Urban Festival of Homes," as well as the Seniors at Hegemon elderly apartments. As a certified community housing development organization, MiraCit has been able to access funding through local, county, state, and federal sources, to ensure that units are affordable to residents.
MiraCit's activities also include the Mock Road Plaza shopping center; FCI Academy, a charter school serving grades K-12; and the FCI, Too Early Learning Academy. "North Central Village is a long-awaited addition to the Mock Road community, and is, as well, another fulfillment of MiraCit's vision of transformation, "said Dr. Edgar Posey. Many people in the community and those outside have wondered what, if anything, could be done with the trailer park which had been an eyesore for so many years… and now that North Central Village is about to begin, it has given new hope once again."
The NRP Group LLC: Developer, Builder and Management Company
The NRP Group is a full-service developer, general contractor, and property manager providing a broad range of services. From start to finish, every project The NRP Group takes on is carefully contemplated and executed to maximize investment return, cost efficiency, productivity and satisfaction. The NRP Group has been recognized as NAHB's 2009 Multifamily Development Firm of the Year and has been ranked number one in the Top 50 Affordable Housing Developers for 2007, 2008 and 2009 by Affordable Housing Finance.
Since it's founding in September 1995 by Alan F. Scott, T. Richard Bailey and J. David Heller, the company has experienced continual growth in the fields of single-family, multi-family and senior housing, as well as commercial and retail properties. In all, more than 12,000 multi-family and single-family housing units have been built with another 1500+ planned in 2009.
In 2003, the owners formed NRP Management, which by year-end 2009 will manage more than 50 properties encompassing over 6,000 market rate and tax credit family and senior apartment properties in Ohio, Michigan, North Carolina, Virginia, Texas, Indiana, New Mexico and Arizona.
The NRP Group, LLC has offices in Cleveland, Ohio; San Antonio, Texas; Phoenix, AZ; Raleigh, North Carolina; for more information, call (216) 475-8900 or visit http://www.nrpgroup.com.
Contact: Diane Christy
Phone: 216.475.8900
Fax: 216.475.0700
# # #