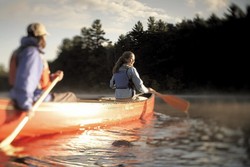 Freeport, Maine (Vocus) May 27, 2008
Memorial Day signifies the unofficial start to summer -- and L.L. Bean Outdoor Discovery Schools make it easy to start the summer outdoors with exciting and fun-filled 1½ to 2½ hour "Walk-On Adventures" offered at all L.L. Bean retail stores that cost just $15 per person.
Beginning Memorial Day weekend and continuing through fall, visitors to L.L.Bean's retail locations throughout the Northeast and Mid-Atlantic region can take part in a fun, new activity such as fly-casting, kayaking, archery, sporting clays, or GPS Techno Treasure Hunts.
Visitors to the flagship store in Freeport, Maine will have the opportunity to try kayaking, fly casting, sporting clays or archery. (The minimum age for clay shooting is 12.) Kayaking, fly-casting, and GPS Techno Treasure Hunt adventures are available at retail stores in South Windsor, Connecticut; Columbia, Maryland; Burlington and Mansfield, Massachusetts; West Lebanon, New Hampshire; Marlton, New Jersey; Albany, New York; Center Valley, Pennsylvania; and Tyson's Corner, Virginia.
Participants simply sign up at the store on the day they wish to participate (no advance registration needed!) and L.L.Bean provides all of the equipment needed and transportation to the activity site. The true value of this program, however, is the expert instruction provided. Experienced instructors at L.L.Bean offer hands-on coaching and guidance in a relaxed and fun setting. Enjoying a new activity doesn't have to be intimidating, and L.L.Bean makes exploring the outdoors easy with these Walk-On Adventures.
Walk-On Adventures make it easy to get together with friends or family members, because L.L. Bean's guides do all of the planning and provide all the necessary equipment. And since no advanced reservations are required, groups can come into the store on a Friday, Saturday, or Sunday and be out on the water, on the range, or just outdoors that same afternoon. Most stores offer multiple departures on the weekends, beginning Memorial Day weekend and continuing through August. The Freeport location offers multiple activities during weekdays starting in Mid-June, in addition to their weekend schedule starting Memorial Day weekend.
Since 1979, the guiding principles of L.L.Bean Outdoor Discovery Schools have remained the same: To promote the enjoyment of the outdoors and to foster an appreciation and respect for our natural environment. These foundations are inherent in every program offered -- whether it is a two-hour Walk-On Adventure or a three-day trip. L.L. Bean retail stores are conveniently located along the eastern seaboard, making it easy, affordable, and convenient to try out a new activity or to get better at a familiar one. Walk-On Adventures program schedules are available by phone at 800-559-0747, ext. 37222 or online at http://www.llbean.com/ods.
L.L.Bean Outdoor Discovery Schools
CONTACT: Stephanie Keister
TEL: 207-552-7562
E-MAIL: skeister@llbean.com
WEB: http://www.llbean.com/ods
Click Here for Media Kit
# # #