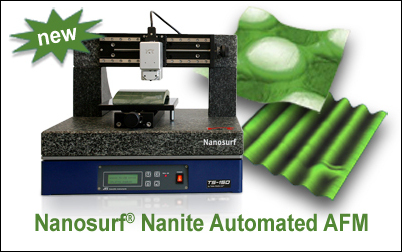 Phoenix, AZ (PRWEB) November 16, 2006
Nanoscience Instruments announces the release of the Nanosurf® Nanite automated Atomic Force Microscope (AFM). Innovators and makers of the most compact and easy-to-use AFMs on the market, Swiss-based Nanosurf AG, have applied their inventive designs to the challenge of automated multiple measurements - the result, a new easy to use AFM that provides true walk away time. The Nanite is designed for use in a variety of nanoscale surface analysis applications ranging from coatings, polymers, fabrics, and fibers -- to semiconductors, wafers, optical and holographic surfaces, and data storage.
The Nanite's batch programming, scripting capability and motorized X/Y/Z stage make it possible for users to prepare a series of routine measurements and leave the microscope to measure on its own. So, whether a process requires nanoscale measurements at random points on a large surface, or on multiple samples in a reproducible location, the batch-programmable Nanite AFM is up to the task.
The Nanite has many benefits that facilitate AFM experiments. For example, the process of mounting an AFM probe is both quick and easy. The Nanite also features pre-aligned optics -- which completely eliminate the need to manually align the laser and detector. To help simplify the task of positioning the AFM probe on the sample surface, the Nanite incorporates an on-board video camera which observes the AFM probe and sample from above and also from the side.
The new Nanite AFM boasts a flexible, adaptive design featuring a compact scanner that incorporates a highly accurate, quick-release mount for easy adaptation to other surface analysis instruments. The Nanite's patented electromagnetic scanner guarantees precise and highly linear movement for reliable quality control measurements and statistical analysis. And, the integrated Nanosurf Report software auto-generates professional reports for quick, efficient evaluation and comparison of roughness, particle count and size distribution, and step heights.
For more information on the new Nanite automated AFM, visit http://www.nanoscience.com/products/nanite.html .
About Nanoscience Instruments
Nanoscience Instruments provides technical sales and support as a supplier of Atomic Force Microscopy products. Information about the easy-to-use Nanosurf® Scanning Probe Microscopes, AFM accessories, and AFM probes can be found at http://www.nanoscience.com .
# # #