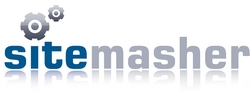 Nearly 80 percent of the design and development process is repetitive. We've automated most of that process, leaving the design and IT teams free to innovate and add business value
Vancouver, BC (PRWEB) October 6, 2008
To help simplify the website development and management process, Sitemasher today introduced the full availability of its online website platform. Unlike other systems on the market, Sitemasher combines an intuitive website builder, content management, analytics, search engine optimization and website hosting in one powerful online tool. This tool and workflow enables everyone involved with the design, launch and maintenance of a website to collaborate easily throughout the project lifecycle.
Sitemasher is built around the four primary roles in advanced Web design and development: the business or site owner, site designer, information technology expert and marketer or content person. Traditionally, players in these roles operate in their own spheres causing problems as a site moves from vision through development. Sitemasher creates a collaboration platform with an intuitive interface that makes the most cutting-edge website elements simple to implement and update.
Website designers and developers can increase profitability by implementing designs without having to worry about technical requirements on the back end. They can also deliver more value to customers by reducing implementation time and cost, as well as providing analytics and websites that are optimized for search engines. Website design firms can assign customers the ability to manage their own content through user roles.
"Nearly 80 percent of the design and development process is repetitive. We've automated most of that process, leaving the design and IT teams free to innovate and add business value," said Nicole Denil, Sitemasher's vice president of marketing. "Tools today either cater to large companies with significant IT staffs or individuals who don't need dynamic, interactive websites. We're focused on making it easy for site designers and owners to take a site from vision to implementation in a matter of days."
"As a growing firm looking to maximize productivity, Sitemasher's suite of tools could help us significantly streamline our Website design and development process," said Chris Ramaglia, web development project manager at Discovertec. "We can deliver more business value to our customers while reducing implementation time."
The new Sitemasher platform features the following benefits:

Single platform - Sitemasher covers the entire lifecycle of websites -site builder, integrated CMS, analytics, SEO, all in a scalable hosted (SaaS) environment. The integrated environment allows an extremely rapid development, implementation, and content management
Powerful Interface - The building environment is a professional, pixel perfect builder for fully customized sites with the ease of use of a drag-and-drop, WYSIWYG tool.
Reduced back-end coding - Design elements such as form creation automatically create a database, thereby eliminating the need for complicated coding to accomplish simple tasks.
Collaboration - All of the stakeholders (designers, marketers, website owners, and the IT teams) can all access the site 24x7 in a collaborative way, speeding time to implementation.
User roles and workflows - The site owner can easily set user roles to work with the corporate workflow, giving users the permissions to update the site content or design based on their skills. So a marketer cannot make accidental design changes to a live site while trying to update content.
Site analytics and SEO - Sitemasher's SEO friendly platform and SEO toolset makes it easy to layer in meta tags and other elements of SEO without repetitive coding for each page. It also enables site owners to easily see what programs are working and to easily make any necessary adjustments.
Managed hosting - Sitemasher hosts the tool as well as the website through its partner Peer1. This provides all tools with the latest infrastructure, security, and hosting requirements, including software maintenance, updates, and upgrades.
The Sitemasher tool is the result of years of research, development and implementation from a team that has a unique understanding of online communications. The Sitemasher executive team all played key roles in such companies as Microsoft, Electronic Arts, Citrix, Rockwell International and a host of other high-profile and innovative technology leaders. Sitemasher first became available in April 2008 when it was opened as a beta version.
Pricing and Availability
Sitemasher is available online at Sitemasher. Introductory pricing starts at $99 a month for a basic account that includes two users and a single published domain. A $249 a month program includes up to five users as well as the ability to set different roles, and a $699 a month program allows for unlimited users.
About Sitemasher
Established in 2007, Sitemasher provides a fully managed, hosted website solution that seamlessly integrates website building, content management, analytics, and search engine optimization (SEO)…all within a single platform. Phil Calvin, chief technical officer, began developing Sitemasher in 2006. Ron Moravek, chief executive officer, joined the new corporation in August 2007 along with Curtis Terry, chief financial officer and chief operating officer for Sitemasher, both from Electronic Arts, Canada. Eric Dorgelo, vice president of development, joined the team from Rockwell. Nicole Denil joined Sitemasher from Microsoft Corporation. Eric Carlson became the sole venture capitalist and partner in December, 2007.
###