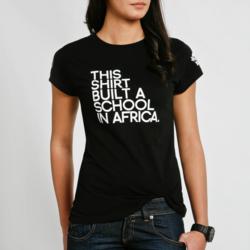 Toronto, Ontario (PRWEB) December 08, 2011
In an innovative new collaboration, Roots Canada and two leading Toronto-based organizations are raising funds to provide education for youth in Africa. On Thursday, December 8, Roots Canada will begin selling specially designed T-shirts to support the official launch of the 'This Shirt Built a School in Africa' initiative. In a three-way partnership involving Roots, the Michael 'Pinball' Clemons Foundation (MPCF) and the Academy of Lions, the project focuses on raising funds to support the building of schools in Sierra Leone and Kenya, providing marginalized youth with much-needed educational opportunities.
Dubbing the day of the launch as 'Build A School Day,' the aim is to sell at least 500 shirts on the first day, the proceeds of which represent the amount needed to build one school. To help achieve this goal, Toronto Argonauts Vice-Chair and MPCF Co-Founder Michael 'Pinball' Clemons has enlisted the involvement of media and sports organizations and plans to have various prominent figures wear This Shirt in public in support of the cause.
"The commitment to build schools in Africa is only possible through the bounty of great, caring, compassionate Canadians," says 'Pinball.' "We hope many people will wear 'This Shirt' because it can help change lives forever in such a positive way. We owe special thanks to community builder and visionary of 'This Shirt' The Academy of Lions and to our friend and champion, the incomparable Bob McCown of Fan 590 Radio, for using his platform to ultimately give birth to This Shirt."
Supporters are asked to direct all social media activities toward the project by changing their Facebook profile pictures to the image of This Shirt, and using the #ThisShirtBuildASchool hashtag on Twitter.
To track the initiative's progress, ThisShirt.com will be updated regularly to provide information on where schools are being built, and how many have been constructed to date.
Retailing at $29.95 each, the 100% cotton T-shirts are designed by The Academy of Lions and made in Canada. They will be available in both men and women's styles, and are offered in black with the project name printed in large white lettering. The shirts can be purchased online at roots.com with free shipping across Canada and the United States and at select Roots locations in Toronto, Vancouver and Ottawa. All net proceeds will be donated to the MPCF.
The MPCF has committed to building 131 schools in seven countries in Africa through Free The Children's Adopt A Village program for which it has raised two-thirds of the funding. Proceeds from 'This Shirt Built A School in Africa' will go toward creating schools specifically in Sierra Leone and Kenya.
About MPCF
The mission of the Michael 'Pinball' Clemons Foundation is to inspire hope through philanthropy and to empower the disengaged while being a conduit for accountability. The MPCF aims to develop academic excellence, infuse depth of character, promote health and vitality, and inspire generosity in our youth.
The MPCF believes that character is the foundation of good citizenship, education is the catalyst of success and progress, and health is the foundation of vitality.
About The Academy of Lions
As a collective of organizations and projects, The Academy of Lions builds functional communities locally and beyond. Located in downtown Toronto, the academy provides a diversity of services such as athletics, health, fitness and nutrition. The non-profit division, called the Academy of Lions Foundation, offers health, lifestyle and entrepreneurial skills to urban, at-risk and homeless youth. Ultimately, the Academy of Lions aims to "help youth help themselves to help others."
About Roots
Established in Toronto in 1973, Roots has evolved into an internationally celebrated lifestyle brand known for its quality leather goods, athletic apparel, accessories and home furnishings. From a small store selling a single product (Roots negative-heel shoe), Roots now has 125 stores in Canada and the United States and more than 45 stores in Asia. A privately held company, Roots has state-of-the-art manufacturing and design facilities in Toronto.
For more information, please contact:
Jennifer Branco
Executive Director
Michael 'Pinball' Clemons Foundation
Tel: 416-735-4040
jennifer(at)mpcf(dot)ca
http://www.mpcf.ca
Dhani Oaks
Director
Academy of Lions/The Shirt Project
Tel: 416-557-2997
dhani(at)academyoflions(dot)com
http://www.academyoflions/thisshirt
Robert Sarner
Director of Communication and Public Affairs
Roots Canada
Tel: 416.781.3574, ext. 4280
rsarner(at)roots(dot)com
http://www.roots.com
###