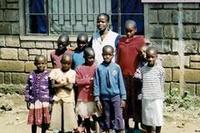 Mr. Mwangi will help provide humanitarian aid and development assistance to Kenyans
Castro Valley, CA (Vocus) November 17, 2010
Samuel Mwangi has been appointed International Media and Corporate Relations Director of the AID Kenya Foundation. His three-year appointment involves organizing individuals, organizations, foundations, media, and businesses in the United States and abroad to help Kenyan's whose lives have been devastated from HIV/AIDS. Mwangi will also represent the AID Kenya Foundation at international forums and engagements, initiate fundraising activities and mobilize volunteers.
"Mr. Mwangi will help provide humanitarian aid and development assistance to Kenyans," said Armstrong O'Brian Ongera, Jr., president and executive director of the AID Kenya Foundation. "Typical beneficiaries of the AID Kenya Foundation cannot afford education, healthcare, proper housing, or even three square meals a day."
Samuel Mwangi Holds his Association of Chartered Certified Accountant (ACCA) from Strathmore University, Nairobi-Kenya and attended the University of California, Berkeley. He is currently the President and the CEO of Tour De Jambo Africa, America's first choice for booking tours of Africa, including African safaris.
ABOUT AID KENYA FOUNDATION
AID Kenya Foundation is a nonprofit organization that mobilizes voluntary humanitarian aid and development assistance to orphaned and vulnerable children, teenage mothers, and disenfranchised populations in Kenya. For more information about the AID Kenya Foundation, visit their website at: http://www.aidkenya.org .
###