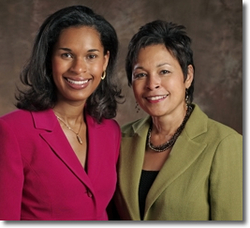 Dayton, Ohio (PRWEB) July 25, 2007
As a young mother, Gail Littlejohn used her creativity and brown paint, crayons and shoe polish to create beautiful home décor accents and items for her children because she wanted them to be surrounded by images that looked like the people they loved.
Fast forward 30 years and Gail was expecting her first grandchild from her oldest daughter Erica Littlejohn Burnette. They were eager to start shopping and decorating to prepare for the baby's arrival, but were surprised to find that the market didn't have much more to offer than it had when Erica was a child. There were more greeting cards and books featuring characters of color, but they couldn't find heirloom quality keepsakes and home décor items that showcased Black culture.
Talking with their friends and colleagues revealed that many other families of color were frustrated with the lack of ethnic products in the market place. In fact, many other families had shared the same experience, using brown paint and crayons to provide their children with an environment filled with positive Black images. Gail and Erica were determined to bring to the market quality products that represented the joy and pride of African American family and cultural life.
From the dream of this mother daughter team, today thousands of customers across the country are enjoying beautiful, original artwork on products that can be used every day to accessorize, entertain and decorate their home. "Our Own Image partners with a variety of artists and suppliers to create original designs on custom products that cannot be found anywhere else," said Gail. "New products debut several times a year, so you have many opportunities to purchase gifts for friends, accessorize your wardrobe and accent your home. "
Our Own Image is now accepting applications to become a new Distributor. To receive more information about distributorships and other business opportunities to sell Our Own Image products call us at: 937.223.6300.
###