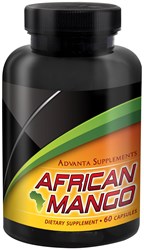 Countless studies have shown that concentrated Irvingia Gabonensis is most effective for weight loss
Adel, IA (PRWEB) June 03, 2013
Advanta Supplements, a leading US-based manufacturer of guaranteed-to-work nutritional and dietary supplements that are developed and tested in FDA-approved laboratories, announced today that it has improved the formulation of its popular and highly-rated African Mango weight loss product. Now, customers will benefit from 500mg of pure and concentrated Irvingia Gabonensis in every 60-capsule bottle, with no added stimulants or other ingredients.
Deriving its name from the seeds of rare mangos found only in Central and West Africa, African Mango extract is rich in fiber, which is ideal for helping men and women lose weight, lower their blood cholesterol levels, and maintain blood sugar levels. Plus, in two randomized trials, participants lost an average of 5-10 pounds per month compared to the placebo group – without either group having to make lifestyle changes during the trial.
"By increasing the level of pure, concentrated Irvingia Gabonensis in our African Mango, our customers can get potent benefits from this remarkable extract in one easy-to-take capsule – but without any of the stimulants or other unwanted additives or ingredients found in other products," commented a spokesperson from Advanta Supplements.
Advanta Supplements' African Mango 500mg 60-capsule bottles are available for purchase from Amazon.com at http://www.amazon.com/Advanta-Supplements-African-Mango-Capsules/dp/B00794WP6C. Plus, for a limited time, customers who buy two bottles will receive a third bottle at no additional cost, and their purchase is eligible for Amazon.com's "Super Saver" shipping option.
As with all Advanta Supplement products, customers who purchase African Mango can request a money back guarantee if they find that the product does not meet their expectations.
About Advanta Supplements
Located in the heart of Iowa, Advanta Supplements partners with FDA-approved labs to develop, test, and manufacture a line of quality vitamins, weight loss and nutritional supplements. All Advanta products are made in the U.S. and backed by a complete customer satisfaction guarantee.