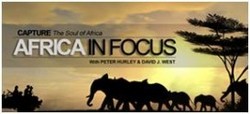 David West works with people from all around the country, with a large number of them being established professionals
Huntersville, NC (Vocus) March 31, 2010
Hills of Africa Travel, a leading provider of Africa safari vacations, has joined eminent photographers Peter Hurley and David West to offer a photography safari tour to South Africa and Zimbabwe. The trip, called Africa in Focus: Capture the Soul of Africa with Peter Hurley and David West, will take place from September 24 through October 5, 2010.
Hills of Africa Travel offers personalized Africa safari vacation itineraries for couples, families, groups, and anyone seeking to experience the unrivaled beauty of Africa. Peter Hurley is regarded as the foremost headshot photographer in the country, and David West is an award-winning nature photographer renowned for his keen eye and talent for teaching workshops.
Hills of Africa co-owners, Meredith Hill and Sandy Salle, created the tour to appeal to a variety of travelers. "David West works with people from all around the country, with a large number of them being established professionals," states Salle. "They feel that their lives revolve around their careers, and they want to make their lives more meaningful. This tour shows them how tourism impacts the people of Africa and how travelers can give back."
"Peter Hurley works with aspiring actors, actresses, and entertainers, whose lives often seem to be focused on the exterior—on appearances," says Hill. "They're made to feel as if their appearance is all they have to offer and that their inner selves are insignificant. We want to show them, through photography, that they are significant, that they do matter."
While in South Africa and Zimbabwe, the 10 individuals on the Africa in Focus tour will explore Africa through the camera lens. "They will be able to submit up to three of their best photos to be included in a coffee-table book, with proceeds to benefit the Hills of Africa Foundation, which promotes sustainable, responsible tourism and its benefits to the people, land, and wildlife of Africa."
The 12-day tour begins with four nights at the Victoria Falls Hotel, where guests are treated to a privately guided Victoria Falls tour, exploring one of the Seven Wonders of the World. Activities ranging from an elephant-back safari to a sunset Zambezi River cruise provide dozens of photographic opportunities. At least one debriefing and photo critique with Hurley and West take place each day throughout the trip.
The Hide Safari Lodge is the setting for the second leg of the tour, September 27 through September 30, 2010. At this luxurious Zimbabwe safari vacation lodge, the group will continue the photo critiques along with early-morning game drives in game-rich game-viewing territory.
The third leg of the tour takes place at the Victoria & Albert Hotel in Cape Town. To understand the significance of giving back in South Africa, the group will visit the Uthando township to explore three projects providing economic opportunities to the most destitute parts of South African society. Also included in this leg are Eziko, a nonprofit cooking school, wine tastings, and watching penguins at Cape of Good Hope.
About Hills of Africa Travel:
Hills of Africa Travel is a tour provider based in Huntersville, North Carolina, specializing in African safari vacations for families, honeymooners, and anyone seeking an adventure. Owners Sandy Salle and Meredith Hill are passionate about sharing the magic of Africa with their clients and frequently travel with their families and lead group tours throughout southern Africa. To learn more about planning an African safari tour and to view possible itineraries, including FTTSA information, please visit http://www.hillsofafrica.com/Zimbabwe/Africa_In_Focus.html or call 1-800-940-9344.
About Peter Hurley:
Peter Hurley is the most sought-after headshot photographer in the country. Because of his eye, his technique, and his engaging personality, he brings out the very best of everyone who sits for him. Since opening his studios in New York and Los Angeles, he has worked with various companies including Levi's, Reebok, DKNY, and Johnnie Walker, and photographed hundreds of actors, models, authors, and entertainers. For more information, visit http://www.peterhurley.com.
About David West:
David West is an award-winning landscape photographer with a gallery located just outside Zion National Park in Utah. In 2009, West was recognized as a top 10 finalist for the 2009 Hasselblad Masters Award. He has conducted dozens of photography workshops and loves to share with others his passion and techniques, which have helped make him a successful nature photographer. Visit West's website at http://www.davidjwest.com.
###