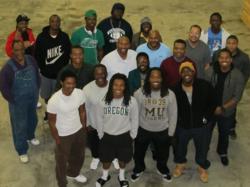 Our students are role models for these younger students, helping them to stay out of trouble and stay on the right path.
Fulton, MO (PRWEB) December 28, 2012
All new college students grapple with the adjustments of their new lives and new environment, but Westminster College in Fulton, MO has established a new leadership program for African American men and women to help them cope with college life and strengthen community bonds.
The Bagby and Pasley-Taylor Leadership Programs are new initiatives from the Office of Intercultural Engagement under the Emerson Center for Leadership and Service on campus. They offer Westminster African American students the opportunity to interact and learn from African American leaders in local Callaway County and the Fulton communities. Both programs meet once a month in order to encourage networking, mentoring and unity between the College and the community.
The Bagby Leadership Program is named for Westminster College trustee and alumnus Major General Byron Bagby. As part of the Bagby program, students serve as mentors for at-risk middle school children in Fulton.
"Our students are role models for these younger students, helping them to stay out of trouble and stay on the right path," says Lt. Andre Cook, Chief of Detectives for the Fulton Police Department, who coordinates the program's community mentor aspect. "They will be taking an active role in other community service projects as the program grows. A part of our approach is allowing them to decide the direction the program will take."
The Pasley-Taylor Leadership Program, named for former treasurer of the local NAACP Mamie Pasely and Billie Dean Richmond Taylor, a local teacher and principal.
Since their program started, organizers and participants held brainstorming sessions about the direction they want the program to take, a series of ice breakers to open communication channels among the students and a pot luck dinner where community leaders and students prepared and shared their own holiday recipes and conversation and the community leaders gave an overview of the history of African Americans in Fulton.
"We have also set up an e-mail forum where students and mentors can communicate with each other," says Paola Protti Nunez, a Westminster Fellow with the Office of Intercultural Engagement. "So far, the two groups have been using the service mainly to invite each other to participate in campus events or community engagements."
The Bagby program held its first meeting at a local restaurant September 25 with 25 men and eight mentors in attendance. Special guest speaker was Tony Galbreath, an 11-year NFL football player originally from Fulton who played for the 1986 New York Giants when they won the Super Bowl.
Coordinating the Westminster student side of the Bagby program is Myron Jackson, a senior from Little Rock, AR; Brooklyn Green, a junior from Denver, CO; Wayne Lane, a sophomore from Fulton, MO; and Rodney Brown, a junior from St. Louis, MO.
Coordinating the community mentor aspect of the Pasley-Taylor program is Carmen Brandt, a local community leader. Coordinating the Westminster student side is Alicia Williams, a sophomore from Little Rock, AR and Shauntay Larson, a junior from Denver, CO. Another supporter of their activities is Westminster Board of Trustees member June Fowler.
Founded in 1851, Westminster College is one of the top liberal arts colleges in America, according to all major educational ranking firms including U.S.News & World Report, Forbes magazine, The Princeton Review and Washington Monthly. National high school counselors recognize Westminster as one of the top two liberal arts colleges in Missouri to receive the best education. This selective college for men and women operates on two campuses, one an 86-acre residential campus in Fulton, MO, and a second Southwestern urban campus in the vibrant downtown of Mesa, AZ. Westminster is a challenging academic environment where students are educated to lead and inspired to achieve. Ninety-five percent of Westminster graduates start their first job or enroll in graduate or professional schools within six months of graduation.
To learn more about Westminster College, people can visit the College web site at http://www.westminster-mo.edu.