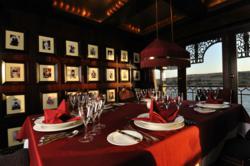 This significant step in our expansion programme demonstrates our confidence in Egypt's tourism.
Cairo, Egypt, (PRWEB UK) 7 March 2012
Mövenpick Hotels & Resorts has underlined its commitment to Egypt's tourism industry by adding Mövenpick Resort Hurghada, Mövenpick Resort Abu Soma and Mövenpick Resort Sharm El Sheikh in Naama Bay to its existing impressive portfolio of four properties on the country's Red Sea coastline.
In a further confidence boost for this year's ITB partner country Egypt, Mövenpick Hotels & Resorts has also strengthened its presence on the Nile with four new cruisers and one sail boat, including the spectacular 'Misr', once the private yacht of Egypt's former King Farouk.
Roger Kacou, Mövenpick Hotels & Resorts' Senior Vice President Africa, said: "We have a long and successful history in Egypt since 1975 and today managing 18 hotels, resorts and Nile boats. This announcement signifies an important step in our dynamic expansion programme that demonstrates our commitment to and total confidence in Egypt's tourism."
Operating under Mövenpick Hotels & Resorts management effective March 5th, 2012, the Mövenpick Resort Hurghada is conveniently located in Hurghada Bay, only 8km from Hurghada International Airport and offers 252 truly spacious rooms and suites, all with a direct view over the Red Sea. The resort has benefited from a programme of renovations throughout 2010 which will continue during 2012 in stages to insure a smooth operation.
Mövenpick Resort Hurghada facilities include a private beach, marina and freshwater pool and is ideal for waterskiing, snorkelling and diving, horseback riding, visiting Giftun Island and desert safaris.
Mövenpick Hotels & Resorts are returning to Sharm El Sheikh on April 8th, 2012 to operate Mövenpick Resort Sharm El Sheikh - Naama Bay. With its prime location on Naama Bay the resort features 298 rooms and four villas with private pool, all with panoramic views over the property's five private beaches.
The resort's captivating architecture and design faithfully reflects its Arabian heritage. Soft cream colours contrast with the rich dark wood of furniture and latticework, while domes and arches add to the sense of serenity. The Moorish style and elegance blend seamlessly with every modern facility and service.
Historical and luxury S/S Misr to be the only Nile steamship
Mövenpick Nile Cruisers offer even more options for cruising the river Nile after boosting their fleet in October 2012 with the historical steamship 'Misr' and four more boats, the M/S Sun Ray, Darakum, Hamees and Feddya. The hotel management company will then operate a total of seven ships on the Nile and one on Lake Nasser.
Originally built by the British Royal Navy in 1918 and later converted into a luxury Nile steamer for King Farouk, 'Misr' is the only steamship on the Nile and is a true time capsule that rekindles the nostalgia of a golden age, but with true luxury accommodation, cuisine and service.
'Misr' has 16 cabins and eight suites that recreate the days of Louis XV and XVI, memories of the British and Ottoman Empires and the stunningly cool chic of art deco.
The Sun Ray, Darakum and Hamees are among the largest and best-appointed craft on the Nile. Sun Ray and Hamees have a comfortable and contemporary design while Darakum features a Moroccan inspired decor. All have five decks and on four of the decks offer a wide range of spacious cabins and suites with panoramic views of the Nile and feature air conditioning, satellite LCD TV, mini bar, safe and private bathroom with tub.
Currently under construction, Feddya is an exclusive and unique sail boat featuring four spacious suites, two with balconies, a dining room and lounge.
This vigorous expansion programme will gather pace later this year with the opening of Mövenpick Resort Abu Soma, a 424-room haven of comfort hugging the unspoilt golden beaches of the Red Sea, just 45 kilometres south of Hurghada.
About Mövenpick Hotels & Resorts:
Mövenpick Hotels & Resorts, an international upscale hotel management company with over 16'000 staff members, is represented in 24 countries with 70 hotels and resorts currently in operation. A further 36 properties are planned or already under construction, including this year's openings in Hurghada, Sharm El Sheikh and Abu Soma (Egypt), Ankara (Turkey), Chiang Mai and Koh Samui (Thailand), Palawan (Philippines) and Dubai (UAE).
Focusing on expansion in its core markets of Europe, Africa, the Middle East and Asia, Mövenpick Hotels & Resorts specialises in business and conference hotels, as well as holiday resorts, all reflecting a sense of place and respect for their local communities. Of Swiss heritage and headquartered in Zurich, Mövenpick Hotels & Resorts is passionate about delivering premium service, culinary enjoyment and sustainable environments – all with a personal touch. The hotel company is owned by the Mövenpick Holding (66.7%) and the Kingdom Group (33.3%). For more information please visit http://www.moevenpick-hotels.com.