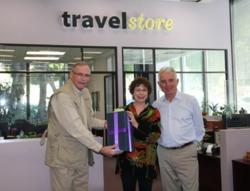 "TravelStore's focus is on the strong personal relationships our travel experts have with our hand-picked preferred suppliers worldwide, and that's particularly important to exotic destinations like Africa." - Dan Ilves, Vice President, Leisure Sales
Los Angeles, CA (PRWEB) March 22, 2012
African Travel, one of the oldest US-based travel suppliers specializing in travel to the African continent, has announced its top producing travel agency for the year, California-based TravelStore.
According to Jim Holden, President of African Travel, "We are so proud of our longstanding relationship with TravelStore, our top producing agency for safaris to Africa. Our experienced safari consultants work seamlessly with TravelStore's similarly knowledgeable and experienced consultants to produce authentic and unique experiences to Africa for TravelStore's clients."
African Travel creates personalized African safaris and adventures and has sent over 100,000 travelers to Africa. While this is the first year African Travel is recognizing their top producing agency, TravelStore was also African Travel's highest producer for the prior year as well.
"TravelStore's focus," said Dan Ilves, TravelStore's Vice President, Leisure Sales, "is on the strong personal relationships our travel experts have with our hand-picked preferred suppliers worldwide, and that's particularly important to exotic destinations like Africa. African safaris are an important part of our business because it provides such an immeasurably enriching and fulfilling experience for the discerning traveler."
Commented Holden, "Any traveler looking to take a safari to Africa gets the benefit of TravelStore's long standing success at promoting and selling Africa."
About TRAVELSTORE
Employee-owned TravelStore is a member of Signature Travel Network and a BCD affiliate. Established in 1975 by Wido Schaefer, TravelStore has grown to be one of the nation's top travel agencies, specializing in leisure travel, honeymoons and destination weddings, and corporate travel management. For more information, visit: travelstoreusa.com or call 310-575-5540.
About African Travel, Inc.
African Travel, Inc. was nominated by Travel Weekly in their Readers' Choice Awards as a Top Tour Operator and Safari Outfitter and listed in Travel+Leisure's World's Best Awards. National Geographic also includes African Travel in their list of "Best Adventure Travel Companies on Earth."