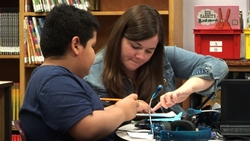 The goal of Imagine Learning Academy is to provide quality language and literacy instruction to the students who need it most
Provo, UT (Vocus) October 28, 2010
Educational software provider Imagine Learning will offer after school tutoring to eligible students through Imagine Learning Academy, the company's supplemental educational service (SES) program. Students enrolled in the program will begin tutoring this month.
Under the No Child Left Behind Act, students from low-income families who attend Title 1 schools qualify for after school tutoring through supplemental educational services. Parents can elect to have their children participate in Imagine Learning Academy at no cost to them.
By providing students with one-on-one attention from trained tutors as well as unlimited access to language and literacy software program Imagine Learning English, Imagine Learning Academy helps struggling students catch up with their peers.
"The goal of Imagine Learning Academy is to provide quality language and literacy instruction to the students who need it most," said Emily Bybee, SES manager for Imagine Learning. "The program gives students the opportunity to learn in an engaging, fun environment."
Imagine Learning Academy was designed to engage students on multiple levels and provide instruction in key reading, speaking and listening skills. Students are placed in the Imagine Learning English curriculum by an adaptive assessment test that identifies learning gaps. Continual assessment ensures that students receive instruction that best addresses those gaps.
Imagine Learning Academy hires only state-certified teachers to work as tutors. These tutors work with students on supplemental worksheets, reinforcing critical language and literacy skills taught by Imagine Learning English.
In a recent survey, 98 percent of Colorado parents whose children participated in Imagine Learning Academy indicated that they would like their children to continue using the program.
Administrators attribute the success of the program to the high level of engagement that it offers students. "To have kids really excited about coming to a tutoring program after school is really wonderful," said Andy Hoffer, former principal at Green Valley Elementary School in Denver.
"It's very multidimensional," said Sage MacCormack, English resource teacher and Imagine Learning Academy lead tutor at Green Valley Elementary School. "Not only are the students receiving the one-on-one instruction directly with the computer program, but there are also printouts that the teachers work on individually with the students."
Imagine Learning Academy is an approved SES provider in 19 states. To find out if your school is eligible to participate in the program, contact Imagine Learning Academy representatives at ses@imaginelearning.com or call 1-866-377-5071.
About Imagine Learning, Inc.
At Imagine Learning, we're passionate about bringing language and literacy instruction to the students who need it most. That's why we used state standards and scientifically based research to develop Imagine Learning English, an innovative software program that uses first-language support, continual assessment and differentiated instruction to meet the needs of four key student populations: English learners, struggling readers, students with disabilities and early childhood education students. Imagine Learning English gives students one-on-one instruction, continual assessment, and scaffolded support while keeping teachers abreast of student progress through real-time reports. Visit our website at http://imaginelearning.com to find out how we're giving students, parents and teachers essential tools for language and literacy development.
###