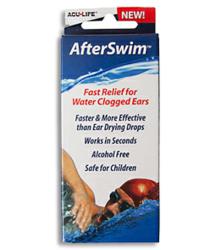 A new drug free product is now available from all natural health and wellness products provider, True Healthy Products, that quickly removes water trapped in ears.
(PRWEB) March 13, 2012
A new product is now available from natural health and wellness company, True Healthy Products that provides quick relief from water trapped in the ear, or "swimmers' ear". The drug free product is called, "After Swim" and is available for under five dollars from the company's website and storefront.
The company's After Swim product can be viewed on their website: http://www.truehealthyproducts.com/products/health-wellness/afterswim-acu-life.
Professional swimmers, beach enthusiasts, and people with Otitis externa otherwise known as "swimmers ear" may benefit from this natural and drug free product. The specially formed sponge like inserts draw moisture from the ear canal that could otherwise perpetuate bacteria growth and infection.
True Healthy Products has listed the following details on After Swim on their website:
Fast relief for water clogged ears
Faster and more effective than ear drying drops
Works in seconds
Alcohol free
Safe for children
True Healthy Products has provided natural vitamins, supplements, fitness aids, and weight loss products since 2007. The company is dedicated to preventative health through natural supplementation and community education, and provides free information on their website about several different current health topics in the news, as well as basic nutritional information.
For more information about the "After Swim" natural ear drying system, or other all natural products offered by the company, please visit them online at http://www.truehealthyproducts.com.
True Healthy Products
2460 N. Courtenay Parkway, Ste. 110
Merritt Island, FL 32953
888-400-2920
http://www.truehealthyproducts.com