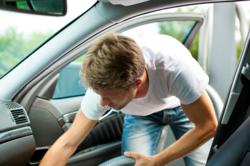 Simple tips and instructions that even beginner car care do-it-yourselfers can tackle in no time.
Torrance, CA (PRWEB) February 28, 2012
autoMedia.com, an advocate of simple do-it-yourself car care, maintenance and repair, is offering free online advice for easy, after-winter car care. In every region of the country, vehicles take the brunt of winter—whether from torrential downpours, freezing rain, flooded streets, or snow, ice, and road salts.
Many drivers may not know that much about spring car care, so autoMedia.com provides simple tips and instructions that even beginner car care do-it-yourselfers can tackle in no time.
The car care experts at autoMedia recommend an end-of-winter-vehicle maintenance check for safe, money-saving spring driving—and have made it easy with the following checklist:

Tires—tend to your tires. By rotating them seasonally, you extend the life of the set.
Blades—wiper blades take a severe beating. Early spring is a good time to check and replace them.
Underbody—clean your vehicle's underbody. There's no magic cleaning solution that will get rid of the corrosive salt build-up for those who live in heavy winter urban areas.
Fluids—check all automotive fluids and top off as necessary. Winter driving conditions require your engine to work harder and deplete fluid levels faster.
Brakes—examine your brakes. Like wipers, brakes take on a bigger role during wintertime and should be checked to ensure they've survived.
"autoMedia prides itself as being a great source for drivers to access for free online car care advice, especially as the seasons come and go," said Marshall Flemion, president of autoMedia.com. "Getting educated and keeping your car in proper condition provides drivers peace of mind while on the road."
The autoMedia team also provides interior car care housekeeping hints, with home remedies for reducing debris and clutter, as well as advice for cleaning auto upholstery. These features and more can be found among the many car care pages found at automedia.com.
About autoMedia.com: The auto website was launched in September 2000 by a team of automotive editorial, design, and publishing professionals, with the goal to be the premier provider of quality automotive content on and for the Web. Today it features over 92,500 pages of original articles, including over 2,500 features researched and written by leading automotive experts, covering new and used car buying, new vehicle previews, road test reviews, car care maintenance, professional driving advice, and technology. Automotive enthusiasts and new car shoppers can read about the latest industry news, pricing, rebates and incentives, view photo galleries and research details on all makes and models. For more information visit autoMedia.com.
###