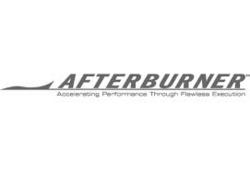 "Our approach has helped CEOs discover new ways to Plan, Brief, Execute and Debrief to transform their company while also helping to inspire and motivate staff to execute the mission objective."
Jim Murphy, CEO, Afterburner
ATLANTA (PRWEB) September 05, 2012
For the past 16 years, former military fighter pilot Jim "Murph" Murphy, CEO and founder of Afterburner Inc. (Afterburner), and his team have trained more than 1.5 million business professionals leveraging his military-inspired methodology called Flawless Execution℠. An elite corporate team building, training and consulting firm based in Atlanta, Afterburner has worked with more than 30 percent of Fortune 500 Companies including Home Depot, Johnson & Johnson and even professional sports franchises like the New York Giants.
After seeing first-hand the extraordinary demand for the premium level of services he and his team of 50 Fighter Pilots/U.S. Navy SEALs/Elite Military Professionals offered, Murphy saw an untapped opportunity. As a result, he launched Afterburner Network, where military veterans could continue their life of service and continue accomplishing missions on the corporate battleground.
The new franchise takes the Afterburner methodology to the local level and expands the core brand's reach to a wider scope of business leaders. Franchisees will be taught the Flawless Execution model to help businesses with team building, with a primary focus on transforming strategy into action and accelerating performance on every level of a company's structure.
"Our approach has helped CEOs discover new ways to Plan, Brief, Execute and Debrief to transform their company while also helping to inspire and motivate staff to execute the mission objective," Murphy said. "Now, we can help small to mid-sized companies achieve new successes through our network of trained franchisees."
The Afterburner Network launched in August 2012 with plans to award four units by the end of the year. Over the next five years, the company intends to expand their network to more than 50 highly-motivated, elite current and former military servicemen and women. Afterburner is looking for entrepreneurial candidates who strongly believe in the core values of the military and how they can be used to enhance the processes of daily life.
"Rather than plaster the country with franchise territories, we are focused on executing our own strategy in core designated market areas across the United States," said Murphy. "We plan on building a network of elite former military members, along with business leaders, who have an unwavering focus on outcomes and mission accomplishment, thus expanding the reach of our system – Flawless Execution."
Murphy's high-definition vision for evolving his method into a franchise model is to assist and partner with like-minded individuals who share leadership skills and believe that military strategy can help businesses more efficiently complete a goal specific mission.
"Afterburner has really built something special over the past 16 years and earned its reputation by training every level of a corporation and developing processes for strategic planning and debriefing systems," he said. "Our network franchisees will utilize the same strength and focus when applying these proven tactics to local businesses. Through our team building practices, we will help companies gain focus, increase sales, strengthen their core and prepare for future business growth."
Each Afterburner franchise costs entrepreneurs $50,000 plus royalties, which includes a network territory of at least 200 companies that earn more than $50 million per year. Each franchisee is guaranteed an exclusive marketing territory, and is equipped with Afterburner's training, processes, support and intellectual property. The system delivers a clean return on investment that motivates and inspires companies to align their organization's objectives in a scalable process. With experiential training, team building, continued consulting and Military Transitioning placement services, Afterburner provides its network partners with a system that generates continued means of residual income.
ABOUT AFTERBURNER NETWORK
Afterburner is a group of elite military professionals and fighter pilots who train leaders to utilize Flawless ExecutionSM to accelerate performance and close execution gaps. Much like the world of combat, the ability to survive, thrive, and win in today's hostile business environment is critical. With a proven track record of success, Afterburner is skilled in creating ROI for individuals, teams, and organizations around the world. Nationally recognized for their high energy, inspirational keynotes and experiential corporate teambuilding programs, the Afterburner Network will connect like-minded veterans with local businesses to sell services and drive Flawless Execution℠. For more information about the Afterburner Network, please visit http://www.network.afterburner.com.
###