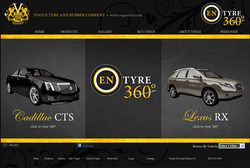 EnTyre 360° has been very well received by our visitors to Vogue's website
Ankeny, IA (Vocus) March 9, 2010
QA Graphics, an innovative computer graphic development company, has developed a virtual showroom for Vogue Tyre and Rubber Company to enhance their customers' shopping experience. Customers can visit Vogue Tyres' new online showroom, EnTyre 360°, to virtually customize their vehicle with Vogue products and see exactly how it will look on their vehicle before buying.
Vogue Tyres, a provider of high-end custom tires, wheels, and accessories, launched their new online showroom, EnTyre 360°, in December of 2009. QA Graphics developed the virtual tool for Vogue to provide an interactive experience for the automobile parts industry, which lets customers virtually modify their vehicle to see exactly how custom accessories like tires, grilles, wheels and true factory paint colors will look on their vehicle before purchasing. The application can be found on Vogue Tyres' website, http://www.voguetyre.com/3d/index.php . When using the online tool, the vehicles are displayed in 3D and visitors can make modifications to see their selections almost instantly in a full 360-degree view which shows the custom accessories from every angle.
"EnTyre 360° has been very well received by our visitors to Vogue's website," said Ken Brockway, director of Vogue Tyre marketing. "We found that our customers needed a way to visualize what their car would look like with Vogue tires, wheels and grilles," said Brockway. "We wanted a program that was easy to use for our customers that would enhance the reality of the vehicle. The 360-degree viewer takes the guessing work out of purchasing the perfect product for your car."
Currently, EnTyre 360° displays two models that can be virtually modified - the 2010 Cadillac CTS and Lexus RX350. QA Graphics is working with Vogue this spring to add the 2010 Cadillac SRX Crossover and Cadillac Escalade EXT to the virtual showroom. Two more vehicles from the 2010 Lexus models are also scheduled to be developed this year. This interactive solution is new to the auto industry and is expected to be well-received, adding to sales and easing purchasing decisions.
"Vogue Tyres' new EnTyre 360° helps increase both sales and customer appreciation. It gives them the final touch for their vehicle," said Jim Kemp, sales manager at Metropolitan Cadillac in Milwaukee, Wisconsin. "It is like trying it on before you buy it."
Product configurators such as EnTyre 360° help ease the shopping process, allowing viewers to virtually change the size, color or possible accessories of their product to see how it will look before purchasing. QA Graphics' design team can develop custom virtual solutions to showcase any product in realistic 3D and 360-degree views. The company also provides its customer base with a variety of 3D designs and interactive solutions, including interactive displays, animations and website development.
About QA Graphics:
QA Graphics is an innovative computer graphic development company specializing in graphical user interfaces and interactive solutions, 3D design/animation, website development and graphic design services to provide a total design solution. The company is also a leader in providing design for the building automation and green building industries, providing 3D displays to help educate the public about energy efficiency and a building's sustainable efforts. Please visit http://www.qagraphics.com to learn more.
###